World Tour Golf Links
Melvin F. Graham designed World Tour Golf Links to be one of the finest golfing experiences. Located in Myrtle Beach the course represents southern colonial charm at its best. Undoubtedly, all golf trips should include a round at World Tour. Graham designed the course to recreate 27 of the world's most famous holes. Because of the inspired design, golfers play legendary holes from around the world like Augusta National, Oakmont, Pine Valley, Seminole Club, St Andrews, Royal Melbourne, and Winged Foot. Thus the name - World Tour Golf Links. Just remember 23/6/10. No passport is required for playing twenty-three exciting courses in six countries and ten states. That is phenomenal golf! This is Myrtle Beach Golf!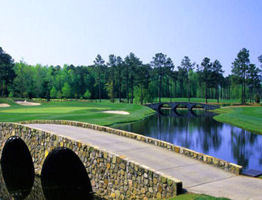 The magnolia-lined entrance embraces the southern charm for this golf course in Myrtle Beach and golfers will feel the experience as if they were driving down Magnolia Lane in Augusta. World Tour provides golfers with an "exclusive" feel, overcrowding is controlled by limiting the number of players. An all-day golf adventure of challenges and excitement is found on this Myrtle Beach golf course. Rolling terrain and undulating promote the classic design of courses like St. Andrews, Cypress Point, and Augusta National. This course is in impeccable condition and features well-manicured fairways, L 93 Bentgrass greens, Bermuda tees and surrounded by nature's splendor. Tournament quality conditions can be noticed everywhere, even at the three nine-hole courses.
A stately Myrtle Beach golf course of the area, World Tour is considered highly prominent for Myrtle golf. World Tour Golf Links has a luxurious clubhouse for relaxation or a quick meal. Making a golfer feel like a championship player is second nature here. The course provides world-class service and professional staff eager to assist with any golfer's need. To get the most of your World Tour experience, yardage books and policies can be provided in advance. On your next golf vacation, book World Tour Golf Links. It's a gem of all the golf courses in the area. Include World Tour Golf Links in future golf packages.
| | | | | | | | | | | |
| --- | --- | --- | --- | --- | --- | --- | --- | --- | --- | --- |
| Open Nine | | | | | | | | | | |
| Hole # | 1 | 2 | 3 | 4 | 5 | 6 | 7 | 8 | 9 | |
| Tournament | 370 | 531 | 132 | 401 | 542 | 344 | 170 | 391 | 354 | |
| Back | 360 | 501 | 125 | 364 | 492 | 321 | 162 | 360 | 341 | |
| Member | 360 | 467 | 115 | 331 | 435 | 312 | 155 | 355 | 329 | |
| Forward | 345 | 410 | 86 | 306 | 410 | 277 | 111 | 326 | 307 | |
| HNCP | 8 | 2 | 4 | 3 | 1 | 6 | 5 | 7 | 9 | |
| Par | 4 | 5 | 3 | 4 | 5 | 4 | 3 | 4 | 4 | |
| | | | | | | | | | | |
| | | | | | | | | | | |
| | | | | | | | | | | |
| Championship | | | | | | | | | | |
| Hole # | 1 | 2 | 3 | 4 | 5 | 6 | 7 | 8 | 9 | |
| Tournament | 380 | 491 | 126 | 455 | 155 | 485 | 418 | 360 | 420 | |
| Back | 368 | 472 | 116 | 435 | 155 | 485 | 418 | 344 | 395 | |
| Member | 355 | 462 | 116 | 344 | 142 | 430 | 402 | 334 | 382 | |
| Forward | 334 | 421 | 100 | 334 | 142 | 413 | 385 | 287 | 340 | |
| HNCP | 6 | 5 | 9 | 1 | 7 | 4 | 3 | 8 | 2 | |
| Par | 4 | 5 | 3 | 4 | 3 | 5 | 4 | 4 | 4 | |
| | | | | | | | | | | |
| | | | | | | | | | | |
| | | | | | | | | | | |
| International | | | | | | | | | | |
| Hole # | 1 | 2 | 3 | 4 | 5 | 6 | 7 | 8 | 9 | |
| Tournament | 354 | 520 | 194 | 399 | 425 | 498 | 163 | 416 | 429 | |
| Back | 310 | 504 | 154 | 377 | 403 | 488 | 150 | 416 | 382 | |
| Member | 278 | 484 | 142 | 335 | 388 | 434 | 130 | 364 | 369 | |
| Forward | 246 | 310 | 92 | 294 | 339 | 389 | 87 | 304 | 312 | |
| HNCP | 8 | 1 | 7 | 4 | 2 | 6 | 9 | 3 | 5 | |
| Par | 4 | 5 | 3 | 4 | 4 | 5 | 3 | 4 | 4 | |
18 holes not guaranteed
Aeration
Aerification
Bill Entire Group to PL18

Bill Entire Group to PL18

Cart
Cart Path Only
Course will be Closed from 6/22-28/2022. Greens should be back to normal by 7/10/22

Course will be Closed from 6/22-28/2022. Greens should be back to normal by 7/10/22

DRIVE
Free Hat

Receive a Free Hat when booking online or through mobile apps

Golf Show
GPS
Lunch Included
Nike Golf Shoes
One Player Deposit
Post-Seed

Overseeding Recently Completed

Practice Balls
Prepaid

Prepaid at time of reservation

Pre-Seed

Preparing for overseeding

Single Special

This is a special rate for a Single Player

Sleeve of balls

Includes free sleeve of Golf Balls

Sleeve of Golf Balls
Tax Not Included

Some taxes and/or fees are not included in this rate and will be charged at the club house upon check-in.

Twilight
Unlimited Golf
Walking Rate
Weekly Cap NOT Met
Available Multi-Play Deals for this Course
2000 World Tour Blvd. ,Myrtle Beach SC 29579