Wizard
The Wizard is a popular Myrtle Beach golf course design by architect Dan Maples. Over 1 million cubic yards of the earth was used to build this course, thus creating devilish elevations! This award winning "mystical" courses is sister to the Witch and Man O' War. The Scottish style is captured with a sorcery of holes. The rolling landscape captivates and motivates golfers to play their best.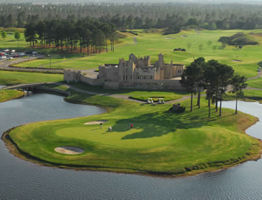 Golf Digest gives the Wizard a solid 4-star rating and recommends this course as one of the best public courses to play in America. Challenges await each player with plenty of water hazards and sand bunkers. The course's layout consists of Bentgrass greens and crystal clear water areas. Dense woodlands and wetlands surround the area with stone bridges, which capture the essence of a "kingdom" or fortress. Skilled and beginner golfers enjoy this exciting golf adventure.
A castle style clubhouse is accessible for golfers needing a break or a moment to gaze at the course's mesmerizing scenery. Book a tee time at the Wizard for your next Myrtle Beach vacation. Golf vacation packages are available and include affordable golf tee times, Myrtle Beach golf specials, and exclusive accommodations at Myrtle Beach golf resorts, Myrtle Beach condos, Myrtle Beach oceanfront hotels, and North Myrtle Beach hotels.
Book early to golf in Myrtle Beach and take advantage of incredible Myrtle Beach deals!
| | | | | | | | | | | |
| --- | --- | --- | --- | --- | --- | --- | --- | --- | --- | --- |
| Front | | | | | | | | | | |
| Hole # | 1 | 2 | 3 | 4 | 5 | 6 | 7 | 8 | 9 | |
| Championship | 569 | 186 | 405 | 181 | 398 | 208 | 568 | 414 | 392 | |
| Regular | 534 | 147 | 379 | 149 | 364 | 173 | 534 | 376 | 356 | |
| Senior | 486 | 128 | 332 | 126 | 342 | 143 | 498 | 335 | 324 | |
| Ladies | 440 | 106 | 300 | 104 | 310 | 123 | 447 | 307 | 287 | |
| HNCP | 1 | 15 | 7 | 17 | 9 | 13 | 3 | 5 | 11 | |
| Par | 5 | 3 | 4 | 3 | 4 | 3 | 5 | 4 | 4 | |
| | | | | | | | | | | |
| | | | | | | | | | | |
| | | | | | | | | | | |
| Back | | | | | | | | | | |
| Hole # | 10 | 11 | 12 | 13 | 14 | 15 | 16 | 17 | 18 | |
| Championship | 367 | 510 | 167 | 408 | 518 | 405 | 424 | 180 | 421 | |
| Regular | 338 | 479 | 138 | 372 | 485 | 369 | 396 | 155 | 394 | |
| Senior | 312 | 442 | 113 | 343 | 458 | 330 | 339 | 138 | 358 | |
| Ladies | 297 | 409 | 94 | 301 | 432 | 296 | 319 | 116 | 284 | |
| HNCP | 14 | 4 | 18 | 10 | 2 | 12 | 6 | 16 | 8 | |
| Par | 4 | 5 | 3 | 4 | 5 | 4 | 4 | 3 | 4 | |
4601 Leeshire Blvd. ,Myrtle Beach SC 29579