Wild Wing Plantation Avocet
The Wild Wing Plantation Avocet, a golf course in Myrtle Beach, was designed by SGCA president Jeff Brauer and three-time PGA Champion Larry Nelson. This modern course is centrally located off Highway 501. Why do so many golfers rave over Wild Wing Plantation? Wild Wing has been named "Golf Course of the Year" several times, always receives top reviews, and an overall rating of 8.3 among some of the area's best golf courses.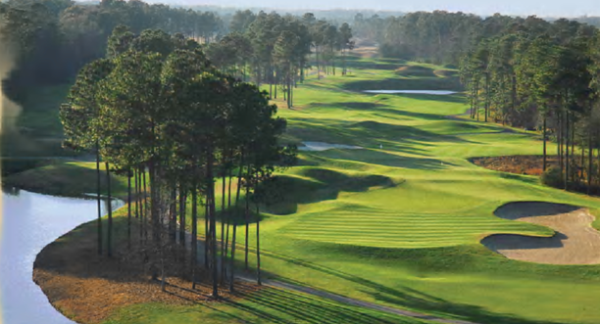 The impressive 27-hole golf course has a slope of 135 and consists of resurfaced Mini Verde Bermuda grass. The first hole sets the round's tone. The moguls grass depressions and tall pines present golfers with unique challenges. The 14th hole is undoubtedly the signature hole. It's a drivable par-4 and from the Black tees play 308 yards. With two contoured fairways, large putting surface, strategically placed bunkers, and grass hollows, golfers are provided with a variety of shot options. Need more persuading? Wild Wing Avocet Course is not lined by houses…so it's just you and the ball.
Wild Wing Plantation continues to be a popular South Carolina beach golf course. Along with exciting golf -- the course provides golfers with a classically designed clubhouse, practice area, chipping and putting green, and driving range. Golf lessons and club fitting are available upon request. It's a complete Myrtle Beach golf resort and undoubtedly one to visit during your next Myrtle Beach golf trip! Reserve your tee time now. Money saving Myrtle Beach golf packages are available year-round. Golf packages include impressive Myrtle Beach golf deals, tee times, hotel and resort options, and Myrtle Beach golf specials at a variety of retail outlets.
| | | | | | | | | | | |
| --- | --- | --- | --- | --- | --- | --- | --- | --- | --- | --- |
| Front | | | | | | | | | | |
| Hole # | 1 | 2 | 3 | 4 | 5 | 6 | 7 | 8 | 9 | |
| Dark Teal | 402 | 422 | 477 | 551 | 183 | 462 | 576 | 176 | 362 | |
| Magenta | 380 | 370 | 424 | 526 | 57 | 451 | 553 | 164 | 323 | |
| White | 348 | 327 | 399 | 501 | 119 | 393 | 494 | 145 | 299 | |
| Teal | 321 | 277 | 373 | 466 | 100 | 346 | 452 | 96 | 218 | |
| HNCP | 9 | 17 | 3 | 5 | 11 | 1 | 7 | 15 | 13 | |
| Par | 4 | 4 | 4 | 5 | 3 | 4 | 5 | 3 | 4 | |
| | | | | | | | | | | |
| | | | | | | | | | | |
| | | | | | | | | | | |
| Back | | | | | | | | | | |
| Hole # | 10 | 11 | 12 | 13 | 14 | 15 | 16 | 17 | 18 | |
| Dark Teal | 433 | 510 | 227 | 400 | 308 | 519 | 470 | 196 | 453 | |
| Magenta | 398 | 485 | 207 | 364 | 283 | 476 | 446 | 181 | 426 | |
| White | 375 | 454 | 166 | 344 | 265 | 449 | 418 | 151 | 381 | |
| Teal | 335 | 414 | 130 | 287 | 221 | 429 | 347 | 143 | 343 | |
| HNCP | 12 | 6 | 8 | 16 | 18 | 10 | 2 | 14 | 4 | |
| Par | 4 | 5 | 3 | 4 | 4 | 5 | 4 | 3 | 4 | |
18 holes not guaranteed
Aeration
Aerification
Cart
Cart Path Only
Free Hat

Receive a Free Hat when booking online or through mobile apps

Golf Show
GPS
Lunch Included
Nike Golf Shoes
Post-Seed

Overseeding Recently Completed

Practice Balls
Prepaid

Prepaid at time of reservation

Pre-Seed

Preparing for overseeding

Single Special

This is a special rate for a Single Player

Sleeve of balls

Includes free sleeve of Golf Balls

Sleeve of Golf Balls
Tax Not Included

Some taxes and/or fees are not included in this rate and will be charged at the club house upon check-in.

Twilight
Unlimited Golf
Walking Rate
Available Multi-Play Deals for this Course
550 Wild Wing Blvd. ,Conway SC 29526