Wachesaw East
Wachesaw Plantation East is a lowcountry course, located just minutes away from Myrtle Beach in Murrells Inlet, South Carolina. Clyde Johnston, as golf course architect, built the championship course with a Scottish flair by incorporating freshwater lakes lining the greens. The natural landscape with densely packed oaks and undulated greens makes Wachesaw Plantation East an enjoyable course for all golfers. The course has been televised with the LPGA and Kathy Ireland/Greens Competition Classic. As an award winning top ranking golf course in Myrtle Beach, Wachesaw also received Golf Digest's 4.5 star rating.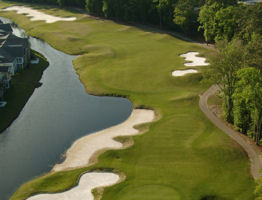 Myrtle Beach golf courses are plentiful, but Wachesaw East is unquestionably one not to be missed! The course is par-72 and playable for all skill levels, with a traditional layout of four par 5's, four par 3's and ten par 4's. Beginner golfers, beware! The winding narrow stream that crosses directly in front of the putting green may pose a potential threat.
Wachesaw Plantation East is an exciting course to play; and a perfect addition to all golf trips. After golfing, relax in the classic clubhouse or visit the pro shop to purchase a Wachesaw Plantation East logo souvenir. When hunger strikes, golfers can grab a quick bite to eat at the grill, which overlooks the practice area.
Wachesaw Plantation East offers many year-round golf discounts to both locals and visitors. Outstanding Myrtle Beach courses are at your fingertips. Understanding that making golfing affordable is essential to any golfer's budget, consider booking a golf vacation package then next time you plan on golf in Myrtle Beach. Packages often include accommodations at a top-notch Myrtle Beach golf resort and even discounted tee times. Plan early and save a lot on Myrtle Beach golf!
| | | | | | | | | | | |
| --- | --- | --- | --- | --- | --- | --- | --- | --- | --- | --- |
| Front | | | | | | | | | | |
| Hole # | 1 | 2 | 3 | 4 | 5 | 6 | 7 | 8 | 9 | |
| Green | 273 | 264 | 530 | 165 | 403 | 380 | 580 | 180 | 429 | |
| Blue | 259 | 239 | 510 | 155 | 393 | 365 | 550 | 173 | 400 | |
| White | 234 | 229 | 495 | 145 | 373 | 342 | 530 | 162 | 390 | |
| Yellow | 211 | 207 | 445 | 135 | 328 | 319 | 490 | 151 | 363 | |
| Red | 143 | 96 | 425 | 121 | 310 | 287 | 450 | 136 | 273 | |
| Par | 4 | 4 | 5 | 3 | 4 | 4 | 5 | 3 | 4 | |
| | | | | | | | | | | |
| | | | | | | | | | | |
| | | | | | | | | | | |
| Back | | | | | | | | | | |
| Hole # | 10 | 11 | 12 | 13 | 14 | 15 | 16 | 17 | 18 | |
| Green | 545 | 410 | 185 | 395 | 405 | 195 | 410 | 500 | 430 | |
| Blue | 515 | 386 | 172 | 378 | 381 | 185 | 395 | 485 | 414 | |
| White | 484 | 356 | 166 | 358 | 360 | 170 | 370 | 470 | 400 | |
| Yellow | 449 | 332 | 133 | 332 | 335 | 160 | 340 | 456 | 378 | |
| Red | 425 | 290 | 116 | 262 | 270 | 140 | 275 | 415 | 305 | |
| Par | 5 | 4 | 3 | 4 | 4 | 3 | 4 | 5 | 4 | |
18 holes not guaranteed
Aeration
Aerification
Aerification Alert (6/18-6/20)

We will be aerifying June 18th through June 20th.

Cart
Cart Path Only
Drive
Free Hat

Receive a Free Hat when booking online or through mobile apps

Golf Show
GPS
Junior
Lunch Included
Nike Golf Shoes
One Player Deposit
Platinum Guests fees are $5 more than the posted PLAT rate.

All Platinum Guests fees are $5.00 more than the posted PLAT rate.

Post-Seed

Overseeding Recently Completed

Practice Balls
Prepaid

Prepaid at time of reservation

Pre-Seed

Preparing for overseeding

Single Special

This is a special rate for a Single Player

Sleeve of balls

Includes free sleeve of Golf Balls

Sleeve of Golf Balls
Tax Not Included

Some taxes and/or fees are not included in this rate and will be charged at the club house upon check-in.

Twilight
Unlimited Golf
Walking Rate
Available Multi-Play Deals for this Course
911 Riverwood Drive ,Murrells Inlet SC 29576