Prestwick Country Club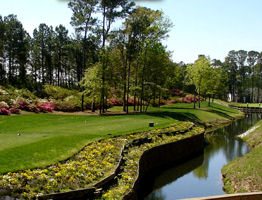 A hidden gem created by architects Pete and P.B. Dye, Prestwick is one of the most prestigious 18-hole golf courses in Myrtle Beach, South Carolina. By hosting both Mid-Amateur and the U.S. Open qualifier, this course is deemed one of the most memorable and sought after courses to play in Myrtle Beach. Surrounding this course is a stunning backdrop of floral and natural beds, and a tranquil 20,000-acre lake.
To accommodate most any skill level, the course features six sets of tees. The black tees offer 7,000 yards of challenge for avid golfers. At Prestwick, golfers come face to face with stairway style bunkers, domineering dunes, sandy waste areas, thick towering pines, and safeguarded greens that are only found at this club in Myrtle Beach. Narrow greens will hinder your shot at the 2nd hole, making tee shots difficult. The fairways are protected by deep sandy bunkers. To be a hit on the 3rd hole, which is the longest of the Par 4, accuracy is everything. To avoid the water hazard, make sure your tee shots stay just to the right side of the fairway.
After your round, visit the pro shop. Prestwick's fully stocked Pro Shop offers remarkable savings and deals on the best name brands in golf such as Gear, Cutter & Buck, and Ashworth. Need more convincing on planning a golf trip now to Myrtle Beach? Prestwick even offers clinics and lessons taught by PGA professionals for golfers wanted to hone your skills. Lessons are appointment based and can be held on the course or on the range.
To obtain the best golf deals, book tee times at golf courses in Myrtle Beach early! One round at Prestwick will leave golfers excited to have played golf in Myrtle Beach. While visiting the Grand Strand enjoy the sand too, we have the most pristine beach in South Carolina.
| | | | | | | | | | | |
| --- | --- | --- | --- | --- | --- | --- | --- | --- | --- | --- |
| Front | | | | | | | | | | |
| Hole # | 1 | 2 | 3 | 4 | 5 | 6 | 7 | 8 | 9 | |
| Black | 383 | 448 | 470 | 340 | 195 | 522 | 446 | 246 | 537 | |
| Blue | 362 | 427 | 458 | 319 | 183 | 491 | 416 | 211 | 507 | |
| White | 341 | 387 | 444 | 305 | 164 | 459 | 384 | 193 | 486 | |
| Green | 318 | 358 | 403 | 290 | 135 | 435 | 333 | 163 | 454 | |
| Red | 302 | 307 | 357 | 234 | 108 | 415 | 296 | 136 | 423 | |
| Tan | 235 | 302 | 292 | 232 | 98 | 374 | 248 | 131 | 366 | |
| HNCP | 3 | 7 | 9 | 1 | 17 | 11 | 13 | 15 | 5 | |
| Par | 4 | 4 | 4 | 4 | 3 | 5 | 4 | 3 | 5 | |
| | | | | | | | | | | |
| | | | | | | | | | | |
| | | | | | | | | | | |
| Back | | | | | | | | | | |
| Hole # | 10 | 11 | 12 | 13 | 14 | 15 | 16 | 17 | 18 | |
| Black | 398 | 412 | 529 | 152 | 451 | 386 | 199 | 531 | 441 | |
| Blue | 388 | 400 | 520 | 144 | 431 | 365 | 188 | 515 | 419 | |
| White | 373 | 344 | 504 | 135 | 409 | 350 | 174 | 499 | 396 | |
| Green | 349 | 318 | 478 | 118 | 381 | 332 | 153 | 472 | 373 | |
| Red | 319 | 269 | 450 | 83 | 343 | 312 | 115 | 405 | 336 | |
| Tan | 259 | 264 | 416 | 73 | 276 | 241 | 111 | 400 | 305 | |
| HNCP | 12 | 14 | 4 | 18 | 6 | 8 | 16 | 2 | 10 | |
| Par | 4 | 4 | 5 | 3 | 4 | 4 | 3 | 5 | 4 | |
18 holes not guaranteed
Aeration
Aerification
Cart
Cart Path Only
Free Hat

Receive a Free Hat when booking online or through mobile apps

Front 9 Only
Golf Show
GPS
Greens Aerification July 17-19

Greens Aerification July 17-19

Holes 9 and 18 Temporary Greens

Holes 9 and 18 Temporary Greens

Lunch Included
Nike Golf Shoes
Post-Seed

Overseeding Recently Completed

Practice Balls
Prepaid

Prepaid at time of reservation

Pre-Seed

Preparing for overseeding

Sales Tax Included

All sales taxes are included in this price.

Single Special

This is a special rate for a Single Player

Sleeve of balls

Includes free sleeve of Golf Balls

Sleeve of Golf Balls
Tax Not Included

Some taxes and/or fees are not included in this rate and will be charged at the club house upon check-in.

Twilight
Unlimited Golf
Walking Rate
Available Multi-Play Deals for this Course
1001 Links Rd ,Myrtle Beach SC 29575