Pawleys Plantation Golf Course
The Pawleys Plantation Golf and Country Club is a reflection of plantation golf at its best. This Jack Nicklaus Signature designed course opened in 1988, and features an 18-hole course with a slope rating of 140, and moss-covered tall oak trees hovering over the landscape. Traditional golf design makes Pawleys Plantation Club a golfer's haven. This historical site is a must play and is deemed to be one of the most prestigious golf courses along the Grand Strand. This Lowcountry setting affords golfers the ability to experience southern charm as they golf in Myrtle Beach, SC.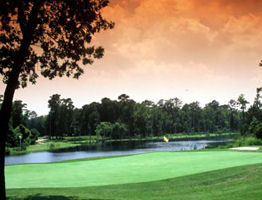 Nicklaus created the course with no shot the same. Skillfully positioned undulations, cunningly placed bunkers, and an abundance of water hazards adds the bells and whistles to Pawleys Plantation. Golfers must play with a keen eye and strategize every shot since this course demands concentration. TifEagel greens and a gentle slope provide ease to a golfer's stroke. The coastal scenery of this Myrtle Beach golf course is breathtaking. Be careful not to be distracted as you play the Par 3's at the back nines. The 13th hole is surrounded by marshland and has a reputation for challenging all golfers.
Located at the southern end of the Grand Strand, this plantation golf resort offers a professional clubhouse, restaurant, pro shop, golf school, and more amenities. After you finish playing 18 holes, head into the restaurant where you can enjoy a cool beverage. Pawleys Plantation Golf and Country Club also offer a variety of tee times to fit any schedule. Need accommodations, great food, and a full day of challenging and rewarding golf? Then this is your course! The best golf tee times can be found here.
| | | | | | | | | | | |
| --- | --- | --- | --- | --- | --- | --- | --- | --- | --- | --- |
| Front | | | | | | | | | | |
| Hole # | 1 | 2 | 3 | 4 | 5 | 6 | 7 | 8 | 9 | |
| Gold | 511 | 461 | 194 | 543 | 390 | 432 | 172 | 452 | 416 | |
| Blue | 495 | 441 | 170 | 498 | 371 | 391 | 151 | 419 | 387 | |
| White | 484 | 408 | 162 | 468 | 353 | 382 | 131 | 387 | 358 | |
| Yellow | 426 | 354 | 127 | 450 | 322 | 367 | 124 | 361 | 351 | |
| Red | 395 | 314 | 125 | 419 | 272 | 366 | 112 | 286 | 310 | |
| HNCP | 15 | 1 | 11 | 13 | 5 | 7 | 17 | 3 | 9 | |
| Par | 5 | 4 | 3 | 5 | 4 | 4 | 3 | 4 | 4 | |
| | | | | | | | | | | |
| | | | | | | | | | | |
| | | | | | | | | | | |
| Back | | | | | | | | | | |
| Hole # | 10 | 11 | 12 | 13 | 14 | 15 | 16 | 17 | 18 | |
| Gold | 361 | 563 | 382 | 145 | 525 | 391 | 444 | 201 | 443 | |
| Blue | 330 | 548 | 345 | 115 | 495 | 374 | 423 | 167 | 402 | |
| White | 301 | 542 | 331 | 69 | 471 | 364 | 405 | 139 | 372 | |
| Yellow | 278 | 442 | 309 | 40 | 446 | 351 | 360 | 122 | 342 | |
| Red | 249 | 373 | 269 | 40 | 409 | 281 | 322 | 117 | 317 | |
| HNCP | 10 | 6 | 18 | 12 | 14 | 8 | 2 | 16 | 4 | |
| Par | 4 | 5 | 4 | 3 | 5 | 4 | 4 | 3 | 4 | |
18 holes not guaranteed
Aeration
Aerification
Aerification - Greens, Tees, Fairways were aerified June 2nd-9th.

Greens, Tees, Fairways were aerified June 2nd-9th.

Cart
Cart Path Only
Free Hat

Receive a Free Hat when booking online or through mobile apps

Golf Show
GPS
Lunch Included
Nike Golf Shoes
One Player Deposit
Post-Seed

Overseeding Recently Completed

Practice Balls
Prepaid

Prepaid at time of reservation

Pre-Seed

Preparing for overseeding

Single Special

This is a special rate for a Single Player

Sleeve of balls

Includes free sleeve of Golf Balls

Sleeve of Golf Balls
Tax Not Included

Some taxes and/or fees are not included in this rate and will be charged at the club house upon check-in.

Twilight
Unlimited Golf
Walking Rate
Available Multi-Play Deals for this Course
70 Tanglewood Drive ,Pawleys Island SC 29585