Myrtlewood Golf Club Pinehills
PineHills, formerly known as "The Pines" is the first and only design by Arthur Hill on the Grand Strand. As an award-winning golf course architect, Hill strategically placed water hazards and mounds to give the course a distinctive contemporary feel, meanwhile maintaining the same classic beauty from when it opened in 1966.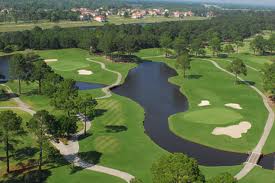 PineHills is playable by both beginner and experienced golfers. The course's topography is comprised of magnificently contoured fairways, water hazards, and deep-faced sandy bunkers. This means golf with accuracy, if you plan for your ball to reach the fairway and onto the green. Beware… fairways and greens have been designed to make golfers think the course is easier than it looks. To create the Easy Lure of Temptation the Bermuda fairways leading up to the Penncross bent Tifdwarf Bermuda greens have been liberally sized.
A slope of 133, 6,640 yardage, and a 72 rating, PineHills provides the back tee players with an unforgettable day of gameplay. Need more persuading? PineHills ranked as one of Myrtle Beach's "Top Ten" by Golf Digest. Of all the various South Carolina golf courses to play, PineHills offers one of the most relaxed and tranquil settings that make this a well sought after Myrtle Beach golf course and popular with golf concierge's at Resorts in Myrtle Beach.
Book your tee time now to play PineHills, and for the best rates available, take advantage of the discount last minute tee times.
| | | | | | | | | | | |
| --- | --- | --- | --- | --- | --- | --- | --- | --- | --- | --- |
| Front | | | | | | | | | | |
| Hole # | 1 | 2 | 3 | 4 | 5 | 6 | 7 | 8 | 9 | |
| Blue | 372 | 348 | 505 | 193 | 384 | 190 | 365 | 431 | 503 | |
| White | 352 | 324 | 482 | 173 | 342 | 165 | 334 | 394 | 485 | |
| Gold | 336 | 309 | 470 | 152 | 324 | 143 | 316 | 347 | 472 | |
| Red | 298 | 277 | 420 | 95 | 254 | 111 | 288 | 315 | 420 | |
| HNCP | 9 | 13 | 1 | 15 | 11 | 17 | 7 | 3 | 5 | |
| Par | 4 | 4 | 5 | 3 | 4 | 3 | 4 | 4 | 5 | |
| | | | | | | | | | | |
| | | | | | | | | | | |
| | | | | | | | | | | |
| Back | | | | | | | | | | |
| Hole # | 10 | 11 | 12 | 13 | 14 | 15 | 16 | 17 | 18 | |
| Blue | 401 | 175 | 400 | 525 | 411 | 498 | 383 | 153 | 403 | |
| White | 372 | 142 | 360 | 486 | 373 | 469 | 351 | 134 | 374 | |
| Gold | 351 | 121 | 334 | 437 | 331 | 438 | 336 | 123 | 352 | |
| Red | 320 | 96 | 280 | 396 | 288 | 397 | 251 | 104 | 296 | |
| HNCP | 8 | 16 | 14 | 4 | 10 | 2 | 12 | 18 | 6 | |
| Par | 4 | 3 | 4 | 5 | 4 | 5 | 4 | 3 | 4 | |
18 holes not guaranteed
Aeration
Aerification
Cart
Cart Path Only
Free Hat

Receive a Free Hat when booking online or through mobile apps

Golf Show
GPS
Lunch Included
Nike Golf Shoes
Post-Seed

Overseeding Recently Completed

Practice Balls
Prepaid

Prepaid at time of reservation

Pre-Seed

Preparing for overseeding

Single Special

This is a special rate for a Single Player

Sleeve of balls

Includes free sleeve of Golf Balls

Sleeve of Golf Balls
Tax Not Included

Some taxes and/or fees are not included in this rate and will be charged at the club house upon check-in.

Twilight
Unlimited Golf
Walking Rate
Available Multi-Play Deals for this Course
1500 48th Ave. North ,Myrtle Beach SC 29579