Myrtlewood Golf Club Palmetto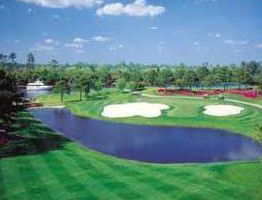 The Palmetto golf course at Myrtlewood reflects a classic design, and well known by locals and tourists for it's convenient Myrtle Beach location. Designed by Edmund B. Ault this Myrtle Beach golf course, the Palmetto Course continues to be one of the area's favorite courses to play for over 40 years. The course is precisely located in the heart of Myrtle Beach, and close to any of the Myrtle Beach accommodations. Moreover, the Palmetto Course continuously ranks as one of the Grand Strands "Top Repeat-Play" golf courses. Golfers at all skill levels agree that the Palmetto Course presents just the right amount of challenge. Combined with the course's tranquil landscape, and designed for optimum play, the South Carolina golf course is not one to miss!
This par-72 and 6,977 yardage course will force players to use precision and all their clubs. To make it to the greens, golfers come face-to-face with subtle slopes, undulations of the fairways, deep-faced sand bunkers, and soft-smooth Tifdwarf Bermuda grass greens. However, golfers experience more than just challenges at the Palmetto Course; they even experience a tranquil setting back dropped by the calm Intracoastal Waterway and just blocks from the Myrtle Beach oceanfront. Golfers…don't minimize the challenges of this course. The approach may seem easy, and boldness may overcome your body.
Here are some tips for playing this course:
What many golfers see is an illusion. Play Palmetto Course with pin-point accuracy. To successfully play this course, you will need to use every club in your bag.
Without a doubt, the Palmetto Course is unique. Each and every hole brings on another new challenge that is uniquely invigorating all the way to the last hole of your round of golf.
| | | | | | | | | | | |
| --- | --- | --- | --- | --- | --- | --- | --- | --- | --- | --- |
| Front | | | | | | | | | | |
| Hole # | 1 | 2 | 3 | 4 | 5 | 6 | 7 | 8 | 9 | |
| Blue | 414 | 417 | 397 | 190 | 404 | 566 | 173 | 541 | 390 | |
| White | 387 | 378 | 366 | 165 | 389 | 519 | 153 | 523 | 369 | |
| Gold | 347 | 336 | 340 | 150 | 370 | 475 | 135 | 500 | 345 | |
| Red | 268 | 249 | 305 | 108 | 311 | 439 | 100 | 439 | 299 | |
| HNCP | 7 | 5 | 13 | 15 | 3 | 9 | 17 | 1 | 11 | |
| Par | 4 | 4 | 4 | 3 | 4 | 5 | 3 | 5 | 4 | |
| | | | | | | | | | | |
| | | | | | | | | | | |
| | | | | | | | | | | |
| Back | | | | | | | | | | |
| Hole # | 10 | 11 | 12 | 13 | 14 | 15 | 16 | 17 | 18 | |
| Blue | 529 | 205 | 361 | 529 | 391 | 439 | 422 | 179 | 468 | |
| White | 503 | 190 | 345 | 511 | 366 | 419 | 394 | 162 | 377 | |
| Gold | 484 | 176 | 327 | 493 | 349 | 327 | 373 | 125 | 357 | |
| Red | 420 | 121 | 306 | 471 | 305 | 309 | 319 | 106 | 301 | |
| HNCP | 12 | 10 | 18 | 14 | 6 | 2 | 8 | 16 | 4 | |
| Par | 5 | 3 | 4 | 5 | 4 | 4 | 4 | 3 | 4 | |
18 holes not guaranteed
Aeration
Aerification
Cart
Cart Path Only
Free Hat

Receive a Free Hat when booking online or through mobile apps

Golf Show
GPS
Lunch Included
Nike Golf Shoes
Post-Seed

Overseeding Recently Completed

Practice Balls
Prepaid

Prepaid at time of reservation

Pre-Seed

Preparing for overseeding

Single Special

This is a special rate for a Single Player

Sleeve of balls

Includes free sleeve of Golf Balls

Sleeve of Golf Balls
Tax Not Included

Some taxes and/or fees are not included in this rate and will be charged at the club house upon check-in.

Twilight
Unlimited Golf
Walking Rate
Available Multi-Play Deals for this Course
1500 48th Ave North ,Myrtle Beach SC 29579