MB National West Course
*** Closed until 6/30/2021
Located in the heart of Myrtle Beach off Highway 501, the West Course at Myrtle Beach National is nestled in a natural landscape with large Mini Verde Bermuda greens and no home sites in view. The course is a short drive to and from most Myrtle Beach Hotels and Myrtle Beach Resorts. Golf course architect, Arnold Palmer and Francis Duane who assisted him used the undeveloped setting of natural winding hazards through the fairways, rows and rows of towering pines, and sandy bunkers to provide protection to the greens.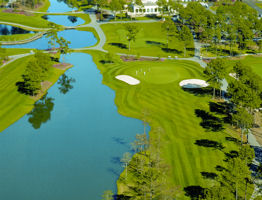 The West Course's traditional style and design provides an outstanding day on the greens, no matter your handicap. Even the most avid golfers will find the natural contours and undulations of the greens and fairways to be a challenge, albeit they continue to book South Carolina golf. Accuracy off of the tee is essential when playing this Myrtle Beach golf course, since the natural terrain creates blind spots and several doglegs. The course has wide-open fairways and greens that slope heavily from back to front. From the middle-back tees, the par-4s play under 400 yards and the par-5s play slightly under 500 yards which are reachable in two for the longer hitters. Water runs down the entire left-hand side of the West Course, finishing with an extended par-3.
The West Course is a public course, yet it provides golfers with the seclusion and amenities of a private course. Golfers love the course's natural habitat because it allows them to experience the splendor of golf in Myrtle Beach. When mixing exceptional golf with a picturesque South Carolina Beach, golf vacations only get better! Plan your next trip and golf in South Carolina. Book early and save BIG on tee times and resorts in Myrtle Beach. Golf Myrtle Beach!
| | | | | | | | | | | |
| --- | --- | --- | --- | --- | --- | --- | --- | --- | --- | --- |
| Front | | | | | | | | | | |
| Hole # | 1 | 2 | 3 | 4 | 5 | 6 | 7 | 8 | 9 | |
| Blue | 501 | 360 | 430 | 183 | 421 | 533 | 385 | 194 | 413 | |
| White | 453 | 302 | 352 | 153 | 393 | 482 | 365 | 156 | 374 | |
| Gold | 439 | 292 | 321 | 143 | 350 | 470 | 348 | 146 | 325 | |
| Red | 400 | 250 | 321 | 111 | 342 | 416 | 348 | 114 | 323 | |
| HNCP | 15 | 17 | 3 | 13 | 1 | 9 | 7 | 11 | 5 | |
| Par | 5 | 4 | 4 | 3 | 4 | 5 | 4 | 3 | 4 | |
| | | | | | | | | | | |
| | | | | | | | | | | |
| | | | | | | | | | | |
| Back | | | | | | | | | | |
| Hole # | 10 | 11 | 12 | 13 | 14 | 15 | 16 | 17 | 18 | |
| Blue | 512 | 422 | 374 | 167 | 419 | 426 | 414 | 491 | 221 | |
| White | 465 | 384 | 338 | 137 | 361 | 387 | 380 | 466 | 165 | |
| Gold | 430 | 372 | 308 | 127 | 336 | 344 | 345 | 454 | 140 | |
| Red | 453 | 372 | 244 | 115 | 283 | 344 | 334 | 393 | 144 | |
| HNCP | 18 | 4 | 12 | 16 | 8 | 2 | 6 | 14 | 10 | |
| Par | 5 | 4 | 4 | 3 | 4 | 4 | 4 | 5 | 3 | |
4900 National Drive ,Myrtle Beach SC 29579