MB National SouthCreek
SouthCreek is a member of the prestigious Myrtle Beach National family and the shortest of the three Myrtle Beach golf courses. With its own distinct character, SouthCreek will test your game. Designed by Arnold Palmer, this course measures at 6,400 yards from the back tees and requires accuracy off the tee.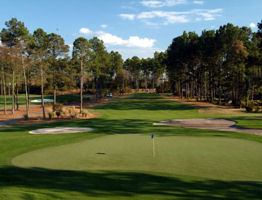 Local and visiting golfers alike agree that SouthCreek is a one of a kind course and a must play for all Myrtle Beach golf vacations. Palmer's style of incorporating the natural terrain of hardwoods and Lowcountry wetlands makes this course one of the best designer's blueprints. Still wonder what to expect when golfing SouthCreek at Myrtle Beach National? Expect undulating Mini Verde greens, dogleg fairways, impressive holes, and challenges! The 10th-hole is a par 5 and wraps as a dogleg right around the sizeable lake. The 13th-hole is a par 3 has a large waste bunker leading up to a small green. The 18th-hole measures 380 yards from the tips. This finishing par 4 plays a dogleg left and fronting the green is a steep-faced bunker, requiring a force carry to the green. Meanwhile, winding waste areas buffer the Tif-eagle greens.
SouthCreek is an excellent course to play no matter your handicap and designed to entice players to use skill rather than strength. The course received a 4-Star rating from Golf Digest in "Places to Play" rankings. SouthCreek is voted as: "Top 100 in America" by Golf for Women as well as among the "Top 25" Myrtle Beach courses. SouthCreek is a member of the Prime Time Signature Package and reservations are suggested. Nearby resorts in Myrtle Beach and hotels in Myrtle Beach make timely tee time arrivals a snap. For those large groups that require more space than Myrtle Beach hotels allow, consider booking a Myrtle Beach Condo.
No matter the golf courses or accommodations selected, all golfers enjoy Myrtle Beach because South Carolina golf rocks!
| | | | | | | | | | | |
| --- | --- | --- | --- | --- | --- | --- | --- | --- | --- | --- |
| Front | | | | | | | | | | |
| Hole # | 1 | 2 | 3 | 4 | 5 | 6 | 7 | 8 | 9 | |
| Blue | 421 | 501 | 364 | 165 | 355 | 475 | 335 | 202 | 390 | |
| White | 382 | 471 | 350 | 149 | 341 | 448 | 325 | 183 | 376 | |
| Gold | 362 | 425 | 320 | 133 | 321 | 420 | 310 | 167 | 360 | |
| Red | 316 | 365 | 282 | 118 | 248 | 318 | 270 | 154 | 285 | |
| HNCP | 4 | 2 | 14 | 18 | 14 | 6 | 12 | 16 | 6 | |
| Par | 4 | 5 | 4 | 3 | 4 | 5 | 4 | 3 | 4 | |
| | | | | | | | | | | |
| | | | | | | | | | | |
| | | | | | | | | | | |
| Back | | | | | | | | | | |
| Hole # | 10 | 11 | 12 | 13 | 14 | 15 | 16 | 17 | 18 | |
| Blue | 532 | 348 | 396 | 166 | 343 | 393 | 507 | 143 | 380 | |
| White | 525 | 339 | 360 | 154 | 324 | 379 | 490 | 130 | 363 | |
| Gold | 503 | 328 | 333 | 139 | 303 | 364 | 458 | 117 | 347 | |
| Red | 415 | 275 | 244 | 127 | 246 | 301 | 376 | 103 | 280 | |
| HNCP | 1 | 7 | 13 | 15 | 11 | 5 | 3 | 17 | 9 | |
| Par | 5 | 4 | 4 | 3 | 4 | 4 | 5 | 3 | 4 | |
18 holes not guaranteed
Aeration
Aerification
Cart
Cart Path Only
Free Hat

Receive a Free Hat when booking online or through mobile apps

Golf Show
GPS
Lunch Included
Nike Golf Shoes
One Player Deposit
Post-Seed

Overseeding Recently Completed

Practice Balls
Prepaid

Prepaid at time of reservation

Pre-Seed

Preparing for overseeding

Single Special

This is a special rate for a Single Player

Sleeve of balls

Includes free sleeve of Golf Balls

Sleeve of Golf Balls
Tax Not Included

Some taxes and/or fees are not included in this rate and will be charged at the club house upon check-in.

Twilight
Unlimited Golf
Walking Rate
Available Multi-Play Deals for this Course
4900 National Drive ,Myrtle Beach SC 29579