Meadowlands Golf Club
Located in Calabash, North Carolina this secluded Myrtle Beach golf course provides the ultimate golfing experience. Meadowlands, is known as one of the most rewarding and challenging golf courses along The Grand Strand. Golfers looking for a course playable no matter your skill level will often add this course to their list of courses to play. Meadowlands' designer, Hale Irwin had the drive to develop the course through his expertise and passion in golf. Hands down…Meadowland offers one of the finest golf experiences along the Grand Strand coupled with spectacular golf deals!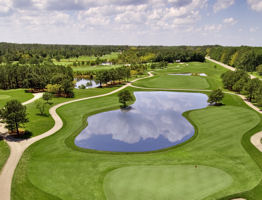 Age–old hardwoods, rolling landscape, crystalline lakes, and five sets of tees provide golfers with a charming and relaxing day of golf. Meadowlands is recognized as one of the most women-friendly course on Grand Strand. Like many North Carolina golf courses, sandy bunkers and water hazards are the primary face-to-face challenges.
Players looking to improve their putts and short game, often fine-tune at the practice facility. The course features an attractive clubhouse, fully stocked pro shop with the latest golf equipment, and a grill serving tasty dishes and icy beverages. The friendly staff delivers exceptional customer service and golf tips. Players enjoy the course layout, making this one of the most highly played golf courses in North Carolina! Book your Myrtle Beach Golf vacation and include this renowned North Carolina golf course. Your golf discount can be unlocked now, play championship Myrtle Beach golf courses and golf in North Carolina.
| | | | | | | | | | | |
| --- | --- | --- | --- | --- | --- | --- | --- | --- | --- | --- |
| Front | | | | | | | | | | |
| Hole # | 1 | 2 | 3 | 4 | 5 | 6 | 7 | 8 | 9 | |
| Raven | 416 | 430 | 480 | 484 | 198 | 432 | 410 | 189 | 566 | |
| Heron | 400 | 411 | 455 | 474 | 173 | 409 | 388 | 173 | 519 | |
| Egret | 379 | 390 | 408 | 452 | 150 | 385 | 356 | 148 | 471 | |
| Hummingbird | 361 | 350 | 351 | 380 | 126 | 355 | 329 | 132 | 437 | |
| Cardinal | 348 | 319 | 298 | 350 | 116 | 329 | 307 | 108 | 411 | |
| HNCP | 7 | 5 | 1 | 15 | 13 | 3 | 17 | 11 | 9 | |
| Par | 4 | 4 | 4 | 5 | 3 | 4 | 4 | 3 | 5 | |
| | | | | | | | | | | |
| | | | | | | | | | | |
| | | | | | | | | | | |
| Back | | | | | | | | | | |
| Hole # | 10 | 11 | 12 | 13 | 14 | 15 | 16 | 17 | 18 | |
| Raven | 402 | 206 | 449 | 426 | 519 | 160 | 403 | 382 | 502 | |
| Heron | 375 | 188 | 412 | 397 | 481 | 149 | 375 | 346 | 466 | |
| Egret | 347 | 158 | 389 | 382 | 439 | 125 | 352 | 309 | 440 | |
| Hummingbird | 321 | 139 | 362 | 347 | 399 | 102 | 329 | 283 | 409 | |
| Cardinal | 295 | 113 | 335 | 324 | 359 | 91 | 305 | 258 | 375 | |
| HNCP | 12 | 10 | 4 | 2 | 14 | 18 | 6 | 16 | 8 | |
| Par | 4 | 3 | 4 | 4 | 5 | 3 | 4 | 4 | 5 | |
1000 Meadowlands Trail ,Calabash NC 29579