Man O' War
Located off Highway 501 next to the Carolina Forest subdivision, this Dan Maples Myrtle Beach golf course is WAR…Man Against Course. Man O' War is a uniquely designed course that pushes golfers. The battle of golf course dominance begins and ends here as golfers play around a 100-acre lake.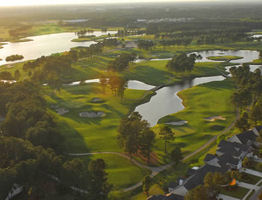 Packed with challenges this 18-hole Myrtle Beach golf course features continuous island greens and an abundance of water. In fact, it is common knowledge the greens and fairways are protected by water. Tip #1: In order to make the perfect shot, it is essential for golfers to be equipped with a variety of clubs to choose from. Tip #2: Play with strategy and pinpoint accuracy to make the shot others could only dream of.
Of all the course holes, the 9th and 16th-holes are the most popular. The 9th Hole Snapshot- The waterway almost entirely protects the left side of this hole with water protecting the right side. Strategically placed sandy bunkers to the left, right, and front of the green, makes this a par at this hole a real feat. The 16th Hole Snapshot- This hole is protected by a tree-lined fairway and pond. The war at this hole is not over until balls safely past the two sandy bunkers that guard the front of the green.
Both avid and novice golfers find Man O' War to be an experience like no other. Ask any local… and they will tell you hands down Man O' War is a must play Myrtle Beach golf course. With over 215 days of sun, Myrtle Beach weather provides an ideal climate for your golf vacation. Affordable accommodation options can be booked at area golf resorts as well as Myrtle Beach hotels. Golf in Myrtle Beach and add Man O' War to the list of Myrtle Beach golf courses to play. Book early and Golf Myrtle Beach!
| | | | | | | | | | | |
| --- | --- | --- | --- | --- | --- | --- | --- | --- | --- | --- |
| Front | | | | | | | | | | |
| Hole # | 1 | 2 | 3 | 4 | 5 | 6 | 7 | 8 | 9 | |
| Championship | 539 | 189 | 400 | 393 | 445 | 189 | 380 | 593 | 433 | |
| Regular | 503 | 153 | 365 | 376 | 417 | 155 | 354 | 558 | 408 | |
| Senior | 469 | 121 | 333 | 332 | 376 | 130 | 325 | 503 | 383 | |
| Ladies | 436 | 100 | 257 | 304 | 299 | 113 | 305 | 463 | 336 | |
| HNCP | 3 | 17 | 9 | 11 | 5 | 15 | 13 | 1 | 7 | |
| Par | 5 | 3 | 4 | 4 | 4 | 3 | 4 | 5 | 4 | |
| | | | | | | | | | | |
| | | | | | | | | | | |
| | | | | | | | | | | |
| Back | | | | | | | | | | |
| Hole # | 1 | 2 | 3 | 4 | 5 | 6 | 7 | 8 | 9 | |
| Championship | 403 | 372 | 423 | 591 | 382 | 173 | 367 | 201 | 494 | |
| Regular | 374 | 347 | 395 | 547 | 354 | 126 | 329 | 173 | 468 | |
| Senior | 336 | 286 | 367 | 498 | 302 | 87 | 308 | 131 | 442 | |
| Ladies | 275 | 265 | 329 | 464 | 266 | 70 | 219 | 104 | 360 | |
| HNCP | 8 | 12 | 6 | 2 | 10 | 18 | 14 | 16 | 4 | |
| Par | 4 | 4 | 4 | 5 | 4 | 3 | 4 | 4 | 5 | |
18 holes not guaranteed
Aeration
Aerification
Cart
Cart Path Only
Free Hat

Receive a Free Hat when booking online or through mobile apps

Golf Show
GPS
Lunch Included
Nike Golf Shoes
Post-Seed

Overseeding Recently Completed

Practice Balls
Prepaid

Prepaid at time of reservation

Pre-Seed

Preparing for overseeding

Single Special

This is a special rate for a Single Player

Sleeve of balls

Includes free sleeve of Golf Balls

Sleeve of Golf Balls
Tax Not Included

Some taxes and/or fees are not included in this rate and will be charged at the club house upon check-in.

Twilight
Unlimited Golf
Walking Rate
Available Multi-Play Deals for this Course
5601 Leeshire Blvd. ,Myrtle Beach SC 29577