Lion's Paw
Willard Byrd's design of Lion's Paw Golf Links is acclaimed as one of his finest works. The course provides players the ultimate golfing experience from the first tee. A treasured course among the 5 Big Cat golf courses, it is conveniently located just a short drive north of Myrtle Beach in Ocean Isle Beach, North Carolina.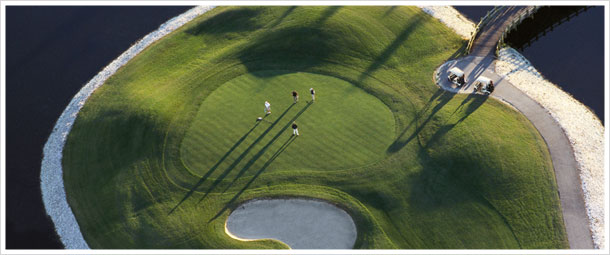 The Lion's Paw is a secluded course that captures nature at its best. This open, hilly and serene course displays the unique views of wetlands and a creek valley. Lion's Paw has a wide layout with deep sugar-sand bunkers and MiniVerde greens. Beginner golfers take note, Lion's Paw is unpredictable with many instant elevation changes around each turn. Avid golfers will find the par 3s as the toughest in the Myrtle Beach area. Exaggerating? No. Golfers play over water at three of the par 3s which are a minimum of 175 yards from the white tees.
Golf Digest scored Lion's Paw with a 3.5 Star rating, and many golf course reviews praise the course as one of the "Top 50 in Myrtle Beach". The course is part of the Ocean Ridge Plantation's Big Cat Golf family and without fail… holds the distinctiveness making it the most popular to play. The clubhouse is 23,000 square feet of rustic decor and serves as a refuge after your adventurous day of golf.
Book your tee time now and make Lion's Paw a favorite Myrtle Beach golf course. Lion's Paw is an excellent course addition to any Myrtle Beach golf vacation. Remember if you want to tame this wild course, your gameplay should include pinpoint accuracy off the tee and precision iron play.
| | | | | | | | | | | |
| --- | --- | --- | --- | --- | --- | --- | --- | --- | --- | --- |
| Front | | | | | | | | | | |
| Hole # | 1 | 2 | 3 | 4 | 5 | 6 | 7 | 8 | 9 | |
| Blue | 417 | 517 | 204 | 428 | 415 | 228 | 402 | 520 | 386 | |
| White | 387 | 477 | 178 | 385 | 399 | 175 | 364 | 495 | 352 | |
| Gold | 351 | 433 | 123 | 361 | 366 | 136 | 332 | 478 | 336 | |
| Red | 335 | 416 | 108 | 326 | 353 | 125 | 303 | 455 | 305 | |
| HNCP | 3 | 17 | 7 | 1 | 5 | 9 | 11 | 15 | 13 | |
| Par | 4 | 5 | 3 | 4 | 4 | 3 | 4 | 5 | 4 | |
| | | | | | | | | | | |
| | | | | | | | | | | |
| | | | | | | | | | | |
| Back | | | | | | | | | | |
| Hole # | 10 | 11 | 12 | 13 | 14 | 15 | 16 | 17 | 18 | |
| Blue | 400 | 202 | 383 | 527 | 418 | 445 | 384 | 185 | 417 | |
| White | 375 | 188 | 372 | 493 | 396 | 408 | 353 | 154 | 369 | |
| Gold | 349 | 172 | 322 | 431 | 393 | 382 | 319 | 131 | 332 | |
| Red | 307 | 110 | 300 | 413 | 328 | 366 | 286 | 121 | 298 | |
| HNCP | 6 | 11 | 10 | 18 | 4 | 2 | 16 | 14 | 6 | |
| Par | 4 | 3 | 4 | 5 | 4 | 4 | 4 | 3 | 4 | |
18 holes not guaranteed
Aeration
Aerification
Cart
Cart Path Only
Free Hat

Receive a Free Hat when booking online or through mobile apps

Golf Show
GPS
Lunch Included
Nike Golf Shoes
Post-Seed

Overseeding Recently Completed

Practice Balls
Pre-Seed

Preparing for overseeding

Single Special

This is a special rate for a Single Player

Sleeve of balls

Includes free sleeve of Golf Balls

Sleeve of Golf Balls
Tax Not Included

Some taxes and/or fees are not included in this rate and will be charged at the club house upon check-in.

Twilight
Unlimited Golf
Walking Rate
Available Multi-Play Deals for this Course
351 Ocean Ridge Parkway ,Ocean Isle Beach NC 28469