Brunswick Plantation Golf Course
Myrtle Beach and the Grand Strand boast more than 100 golf courses to delight visitors and locals alike. With so many options available why would you not want to spend time on one of the top 50 golf resorts in the United States? Located just minutes from all the activity of Myrtle Beach in Calabash, North Carolina, Brunswick Plantation and Golf Resort delivers a beautiful and tranquil environment where enthusiasts can enjoy fantastic golf.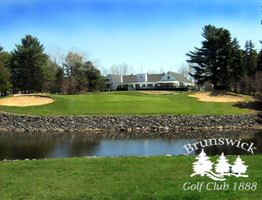 Brunswick Plantation and Golf Resort was designed by architect Clyde Johnston and boasts 27 holes divided into the Azalea, Dogwood and Magnolia courses. Each of these courses offers a unique golfing experience enjoyable to golfers of all experience levels. Enjoy a rousing round of golf on 1,700 beautifully landscaped acres.
The Magnolia Course will take you back to the Scottish origins of the sport. This course has extensive mounding, large sand and grass bunkers and water hazards on three holes to challenge golfers. The Magnolia Course has a course rating of 73.2 and a slope of 135.
Dogwood Course is nestled along the Caw Caw Creek and among stately hardwood trees. This course has an open design in a picturesque landscape that includes an island green on hole six. Dogwood Course has a rating of 73.8 and a slope of 132.
The final course at Brunswick Plantation and Golf Resort, Azalea, is carved into thick woodlands delivering a tranquil spot to enjoy a round of golf. Many of the holes on Azalea Course have water hazards, offering a challenge for every experience level. Azalea Course has a rating of 73.2.
Brunswick Plantation and Golf Resort offers more than just amazing golf courses. You can also enjoy a scrumptious meal at the 19th Hole. Grab an omelet before your tee time or a tasty lunch after you finish to celebrate a perfect round.
Brunswick Plantation and Golf Resort offers all that you need if you want to get away for an amazing Myrtle Beach golf vacation. If you are visiting the area and simply want to spend some time on a beautiful and amazing golf course you should definitely make time to play a round at Brunswick Plantation and Golf Resort. These golf courses are definitely a step above the rest.
| | | | | | | | | | | |
| --- | --- | --- | --- | --- | --- | --- | --- | --- | --- | --- |
| Magnolia | | | | | | | | | | |
| Hole # | 1 | 2 | 3 | 4 | 5 | 6 | 7 | 8 | 9 | |
| Black | 409 | 521 | 388 | 180 | 425 | 510 | 204 | 357 | 401 | |
| Blue | 384 | 489 | 358 | 150 | 385 | 492 | 170 | 325 | 370 | |
| White | 360 | 451 | 335 | 126 | 365 | 455 | 151 | 290 | 346 | |
| Gold | 355 | 444 | 323 | 110 | 332 | 450 | 125 | 263 | 335 | |
| Red | 310 | 425 | 315 | 102 | 325 | 403 | 122 | 258 | 316 | |
| HNCP | 6 | 2 | 12 | 16 | 4 | 14 | 18 | 8 | 10 | |
| Par | 4 | 5 | 4 | 3 | 4 | 5 | 3 | 4 | 4 | |
| | | | | | | | | | | |
| | | | | | | | | | | |
| | | | | | | | | | | |
| Dogwood | | | | | | | | | | |
| Hole # | 1 | 2 | 3 | 4 | 5 | 6 | 7 | 8 | 9 | |
| Black | 398 | 390 | 380 | 180 | 535 | 395 | 555 | 208 | 409 | |
| Blue | 365 | 364 | 353 | 167 | 520 | 378 | 520 | 200 | 380 | |
| White | 348 | 350 | 345 | 155 | 500 | 365 | 476 | 178 | 350 | |
| Gold | 317 | 315 | 305 | 139 | 470 | 332 | 438 | 155 | 343 | |
| Red | 310 | 275 | 263 | 110 | 450 | 266 | 406 | 128 | 315 | |
| HNCP | 11 | 13 | 17 | 9 | 5 | 1 | 3 | 15 | 7 | |
| Par | 4 | 4 | 4 | 3 | 5 | 4 | 5 | 3 | 4 | |
| | | | | | | | | | | |
| | | | | | | | | | | |
| | | | | | | | | | | |
| Azalea | | | | | | | | | | |
| Hole # | 1 | 2 | 3 | 4 | 5 | 6 | 7 | 8 | 9 | |
| Black | 400 | 154 | 392 | 197 | 518 | 380 | 365 | 414 | 502 | |
| Blue | 359 | 140 | 372 | 152 | 484 | 356 | 333 | 380 | 460 | |
| White | 345 | 118 | 350 | 135 | 471 | 330 | 313 | 353 | 442 | |
| Gold | 330 | 107 | 328 | 132 | 452 | 306 | 291 | 339 | 430 | |
| Red | 320 | 102 | 322 | 94 | 437 | 280 | 275 | 329 | 405 | |
| HNCP | 1 | 17 | 15 | 7 | 13 | 3 | 9 | 11 | 5 | |
| Par | 4 | 3 | 4 | 3 | 5 | 4 | 4 | 4 | 5 | |
380 Brunswick Dr. Nw ,Calabash NC 28467