Beachwood Golf Club
Beachwood Golf Course is one of the oldest golf courses in North Myrtle Beach, nestled between the Intracoastal Waterway and Highway 17. Built in 1968, Beachwood has a reputation for being one of the best maintain golf courses on the Grand Strand and home to various prominent South Carolina golf events.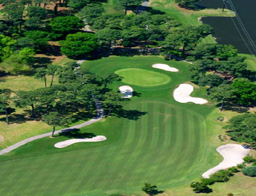 Gene Hamm as the golf course architect designed this layout for all skill sets. Enjoy a challenging game of golf and marvel at the natural vegetation, boats that cruise on the Intracoastal Waterway, and the spectacular Atlantic Ocean. Unlike many other Myrtle Beach golf courses, Beachwood offers golfers winding fairways with multicolored floras, towering Carolina pines, clear lakes, and Bermuda greens. Hamm's flawless course design provides enough challenge for both beginner and experienced golfers alike, and can only be experienced when you golf in South Carolina.
When it is time to relax after a day of golf, quench your thirst at Beachwood Grill. Great food for every palate is prepared at the Beachwood Grill, where early golfers can feast on a full breakfast menu. This course also allows golfers to take personal coolers to the course, as long as the coolers fit into the golf cart basket. Beachwood is not just for you and your golf buddies, but enjoyable for a family golf vacation. Enjoy a round of golf with your family, grab a bite to eat, and together enjoy nature's splendor and the weather in Myrtle Beach. Golf vacation packages are available that include North Myrtle Beach rentals as well as nearby Myrtle Beach hotels.
Golf Myrtle Beach! You are only a click away from an array of golf packages to suit any budget.
| | | | | | | | | | | |
| --- | --- | --- | --- | --- | --- | --- | --- | --- | --- | --- |
| Front | | | | | | | | | | |
| Hole # | 1 | 2 | 3 | 4 | 5 | 6 | 7 | 8 | 9 | |
| Blue | 534 | 389 | 404 | 175 | 402 | 425 | 327 | 191 | 573 | |
| White | 513 | 358 | 373 | 145 | 385 | 403 | 318 | 167 | 540 | |
| Gold | 478 | 336 | 351 | 122 | 293 | 320 | 278 | 158 | 501 | |
| Red | 436 | 269 | 277 | 110 | 287 | 313 | 268 | 126 | 413 | |
| HNCP | 15 | 11 | 5 | 9 | 3 | 1 | 17 | 7 | 13 | |
| Par | 5 | 4 | 4 | 3 | 4 | 4 | 4 | 3 | 5 | |
| | | | | | | | | | | |
| | | | | | | | | | | |
| | | | | | | | | | | |
| Back | | | | | | | | | | |
| Hole # | 10 | 11 | 12 | 13 | 14 | 15 | 16 | 17 | 18 | |
| Blue | 320 | 411 | 360 | 386 | 581 | 179 | 410 | 512 | 239 | |
| White | 294 | 345 | 328 | 361 | 560 | 157 | 375 | 494 | 199 | |
| Gold | 281 | 327 | 306 | 335 | 532 | 150 | 345 | 403 | 179 | |
| Red | 230 | 294 | 250 | 265 | 468 | 143 | 296 | 393 | 109 | |
| HNCP | 18 | 2 | 16 | 14 | 4 | 8 | 12 | 10 | 6 | |
| Par | 4 | 4 | 4 | 4 | 5 | 3 | 4 | 5 | 3 | |
1520 Highway 17 South ,North Myrtle Beach SC 29582