Dunes Golf And Beach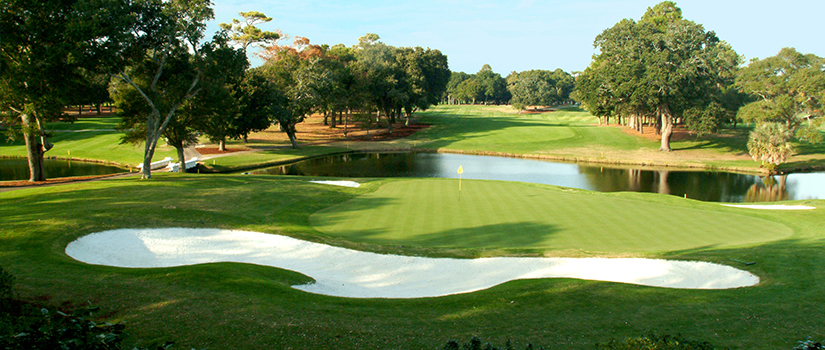 The Dunes Golf and Beach Club is not only rated as the No. 1 golf course in Myrtle Beach, but also as one of the best courses in the world. In 2014 this Myrtle Beach golf course was honored to hosted the 2014 PGA Professional National Championship.
Built by legendary designer Robert Trent Jones and opened in 1949, the historic Dunes Club continues to be ranked the "No. 1 Golf Course in Myrtle Beach" by Golf Digest, Golf Magazine and Golfweek, along with numerous national and international accolades. The Dunes Club was known as one of the first golf courses along the Grand Strand.
The Dunes Club has played host to six Senior Tour PGA Championships, one Women's U.S. Open and several PGA Tour Q-School finals. It's also home to one of the nation's top-rated Par-5s, known as "Waterloo," which features an inverted dogleg around Lake Singleton. Most players can only play this private country club golf course with the help of certain members or if you stay at certain partner hotels. Not the case for Myrtlebeachteetimesnow golfers! We are priviledged to be able to book tee times for our golfers.
With a Lowcountry terrain that varies from the oceanfront, salt marshes, tidal creeks and maritime forests, the Dunes Club also is known as the most scenic course in Myrtle Beach. Complete practice facilities, Southern hospitality and other amenities are among the extras that set this course apart from the rest. Complete your bucket list and play the Dunes Club today.
18 holes not guaranteed
Twilight Time
Aeration
Aeration in progress
Aerification
Aerification in progress
Cart Path Only
Cart Path Only
Free Hat
Receive a Free Hat when booking online or through mobile apps
Lunch Included
Lunch Included
Nike Golf Shoes
Nike Golf Shoes
Post-Seed
Overseeding Recently Completed
Practice Balls
Free Practice Balls
Pre-Seed
Preparing for overseeding
Single Special
This is a special rate for a Single Player
Sleeve of balls
Includes free sleeve of Golf Balls
Sleeve of Golf Balls
Sleeve of Golf Balls
Tax Not Included
Some taxes and/or fees are not included in this rate and will be charged at the club house upon check-in.
Unlimited Golf
Unlimited Golf
Walking Rate
Walking Rate
9000 North Ocean Blvd. ,Myrtle Beach SC 29572