Aberdeen Country Club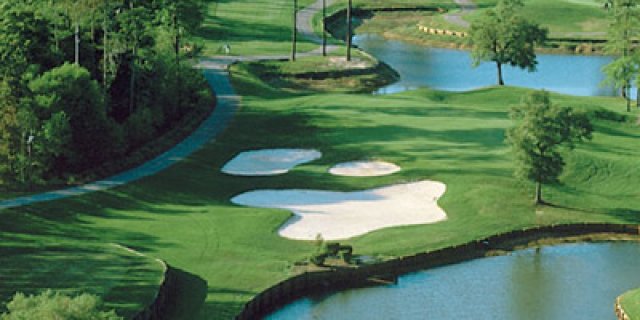 The Aberdeen Country Club and Golf Course is situated along the scenic Waccamaw River in Longs, South Carolina north of Myrtle Beach. Play Aberdeen and experience golf in true Scottish fashion. Aberdeen Country Club has three nines: The Highlands, Meadows, and Woodlands - all reminiscent of golf's early days.
Brand new for 2019, Aberdeen is encircled by lush Tif-Eagle Bermuda greens and soaring hardwoods, and features wide landing & and extensive mounding. Being 27 holes, Aberdeen allows golfers the opportunity to enjoy extra nines or even an extra eighteen.
Aberdeen Country Club is known for the value that is offered in a fantastic round of golf. With a new clubhouse in 2019, be sure to stop by and enjoy a tasty beverage with your buddies either before or after your round.
Golfers bring your A-Game… your accuracy and skill will be tested. The Woodlands is known as the most challenging course of the nines. The Meadows offers more straight forwards. The Highlands features the longest tees for a par of 36.
Receiving an 8 out of a 10 star review, Aberdeen without a doubt is one of the best courses in Myrtle Beach.
| | | | | | | | | | | |
| --- | --- | --- | --- | --- | --- | --- | --- | --- | --- | --- |
| Meadows | | | | | | | | | | |
| Hole # | 1 | 2 | 3 | 4 | 5 | 6 | 7 | 8 | 9 | |
| Blue | 342 | 522 | 331 | 147 | 391 | 400 | 570 | 216 | 387 | |
| White | 306 | 494 | 300 | 129 | 58 | 365 | 546 | 160 | 352 | |
| Gold | 268 | 472 | 280 | 101 | 321 | 343 | 499 | 128 | 329 | |
| Red | 239 | 373 | 222 | 74 | 271 | 298 | 465 | 103 | 305 | |
| HNCP | 8 | 3 | 7 | 9 | 5 | 6 | 1 | 4 | 2 | |
| Par | 4 | 5 | 4 | 3 | 4 | 4 | 5 | 3 | 4 | |
| | | | | | | | | | | |
| | | | | | | | | | | |
| | | | | | | | | | | |
| Woodlands | | | | | | | | | | |
| Hole # | 1 | 2 | 3 | 4 | 5 | 6 | 7 | 8 | 9 | |
| Blue | 432 | 426 | 535 | 421 | 167 | 411 | 351 | 158 | 544 | |
| White | 380 | 402 | 502 | 388 | 151 | 400 | 320 | 141 | 517 | |
| Gold | 368 | 383 | 465 | 363 | 119 | 335 | 298 | 111 | 487 | |
| Red | 323 | 345 | 441 | 331 | 92 | 208 | 262 | 85 | 424 | |
| HNCP | 3 | 4 | 1 | 2 | 9 | 6 | 7 | 8 | 5 | |
| Par | 4 | 4 | 5 | 4 | 3 | 4 | 4 | 3 | 5 | |
| | | | | | | | | | | |
| | | | | | | | | | | |
| | | | | | | | | | | |
| Highlands | | | | | | | | | | |
| Hole # | 1 | 2 | 3 | 4 | 5 | 6 | 7 | 8 | 9 | |
| Blue | 514 | 394 | 178 | 370 | 565 | 381 | 175 | 401 | 427 | |
| White | 491 | 58 | 152 | 337 | 514 | 345 | 166 | 353 | 389 | |
| Gold | 474 | 339 | 119 | 301 | 503 | 261 | 136 | 314 | 368 | |
| Red | 374 | 301 | 93 | 279 | 392 | 236 | 114 | 258 | 287 | |
| HNCP | 4 | 6 | 8 | 7 | 1 | 5 | 9 | 3 | 2 | |
| Par | 5 | 4 | 3 | 4 | 5 | 4 | 3 | 4 | 4 | |
18 holes not guaranteed
Aeration
Aerification
Bill Entire Group to PL18

Bill Entire Group to PL18

Cart
Cart Path Only
Free Hat

Receive a Free Hat when booking online or through mobile apps

Golf Show
GPS
Local Rate
Lunch Included
Nike Golf Shoes
One Player Deposit
Player's Card
Post-Seed

Overseeding Recently Completed

Practice Balls
Prepaid

Prepaid at time of reservation

Pre-Seed

Preparing for overseeding

Single Special

This is a special rate for a Single Player

Sleeve of balls

Includes free sleeve of Golf Balls

Sleeve of Golf Balls
Tax Not Included

Some taxes and/or fees are not included in this rate and will be charged at the club house upon check-in.

Twilight
Unlimited Golf
Walking Rate
Weekly Cap NOT Met
Available Multi-Play Deals for this Course
701 Buck Trail ,Longs SC 28568