Myrtle Beach is a mecca for golfing buddies in South Carolina on the eastern seaboard of the United States. With spring-time just around the corner, that means that golf season is too. So, let's talk golf and more importantly, Myrtle Beach golf packages. Here's your guide to help get your trip started.
You've probably noticed that taking the kids to Disney World has become a rite of passage for all parents. It's gotten to the point where if you haven't taken the kids, the other parents start looking at you funny.
Well, if you love golf, a visit to Myrtle Beach (or a couple dozen...) is a rite of passage, too. Golf in Myrtle Beach is like Disney World for adults and is our own passage, and at some point, you have to go. After all, there are over 70 golf courses to choose from, spread across 60 miles of coastal North and South Carolina. The 60 mile stretch of beautiful, white sandy beaches are know as "The Grand Strand."
Like a Disney World vacation for the kids, planning a Myrtle Beach golf trip can be intimidating for a first-timer. Even if you've been to Myrtle Beach a few times, there is still plenty to learn and discover. Sit back, take a deep breath and when you follow a few basic tips, a great time is guaranteed – which is why millions of rounds of golf are played here each year!
So here are the top recommendations to help you get the most out of a Myrtle Beach golf trip:
1. Location, location, location. Know where you are staying and where the golf courses are and plan accordingly. There are enough quality courses in the area that even if you're staying for a week and playing 10 or more rounds, you still won't have to drive more than a half hour to a quality course if you don't want to. Myrtle Beach's traffic can be a little tricky, so if you book a course that is at the opposite end of the Grand Strand, plan to leave in plenty of time as you don't want to miss your tee time! One of our package specialists will be happy to guide you in the right direction and let you know the necessary drive times and distances.
2. If you fly, fly right. Myrtle Beach International Airport (MYR) has nice, modern main terminal, and serves more cities via direct flights than you might think - including Chicago, Detroit, Toronto and Dallas. That brings hundreds of cities within a single stop of the Grand Strand. No worries though, if you're not from a direct flight city, chances are you can still get to Myrtle Beach pretty easily. One item to note: if you are interested in saving a little coin – check flights coming in to Wilmington or Charleston. These airports located to the north and south of Myrtle Beach are just a short drive away and can save you money if you are willing to drive a little to arrive at your destination.
3. Know how to arrange private showings (no, not what you are thinking!) There are a few private courses in the Myrtle Beach area, but we can help you access them and can include a round in your Myrtle Beach golf package. The famous Dunes Golf & Beach Club is the main example of this, but the quiet Surf Club and, farther south, the Tom Fazio-designed Wachesaw Plantation, can also make worthwhile escapes from the crowds. A call to our tee time specialist will get you that hard to make tee time.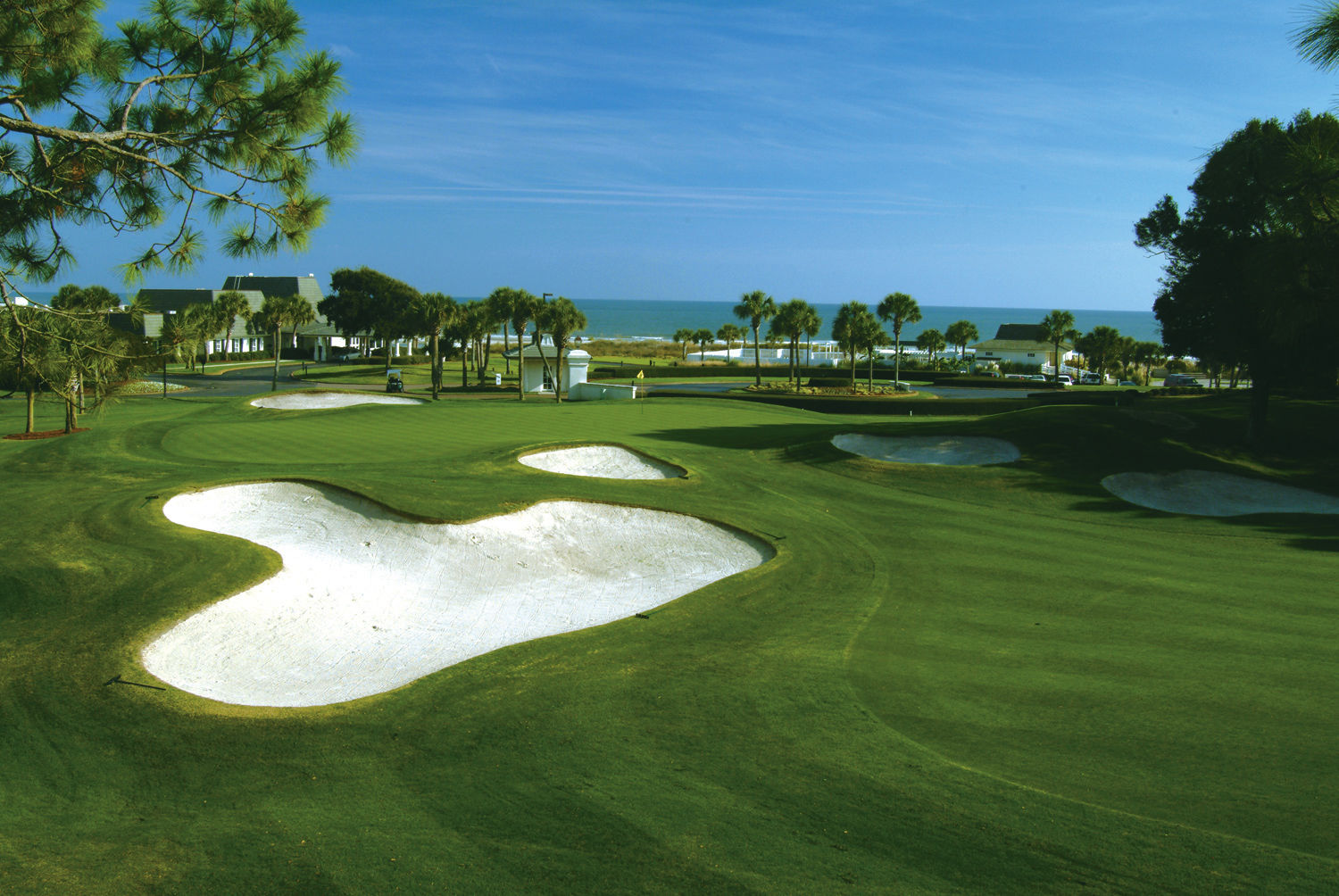 4. To package or not to package? Myrtle Beach is the birthplace of the golf package, so it stands to reason that there is no more appropriate place to work with a golf package provider, especially given the size of the Grand Strand and sheer numbers of golf courses – not to mention the various lodging options available. Our sister site, Myrtle Beach Golf Authority, takes pride in our abilities and have even worked with some customers for over a decade. We can help you book the perfect Myrtle Beach golf package with golf courses of your choosing and the best accommodations through our parent company, Elliott Beach Rentals. First-timer? Best not to go it alone…. we will make it easy for you.
5. If you crave competition (friendly and maybe not so much), there's no place better. The Grand Strand is home to the Myrtle Beach World Amateur, which takes place usually in August each year. But that's far from the only fun, competitive opportunity on the calendar. If you're wanting some milder weather on your trip, the Myrtle Beach Fall Classic, a four-round, two-person event that happens in November, is a ton of fun. And each July, the Father & Son Team Classic welcomes hundreds of pairs of golfers to the Myrtle Beach area, including grandfathers and grandsons and even father-and-daughter and mother-and-daughter divisions. Regardless of age, or skill, there is competition for everyone in the Seaside Golf Capital of the World.
6. No need to bring extra golf balls (or gloves, tees, or pretty much anything golf related). Myrtle Beach is home to one of the biggest golf stores you'll ever see, PGA Tour Superstore in two locations, north and south. Covering tens of thousands of square feet, they're great for making an impulse purchase that will definitely turn your game around, generally killing an hour or two before dinner or after golf, or replacing lost golf balls or broken tees.
7. There are many great off-season deals. Myrtle Beach won't break the bank in peak times (Mid-March to late-April; Late-September to early November), but if you are wanting an even better value, simply be willing to deal with some heat or throw and extra layer of clothing on for the winter months. Visit in January or February and you will likely see highs in the 50's (sometimes 60s!). When the temps are just barely cool – the bargain hunter in you will be elated. Similarly, the almost off-seasons can yield some great deals. May and early June generally have great, not-that-hot weather, and between Thanksgiving and Christmas can be extremely mild and fall-like. It really is a great time to visit, play golf and get a great bargain.
So schedule your tee time, or Myrtle Beach golf package today – the courses are waiting!
Comments