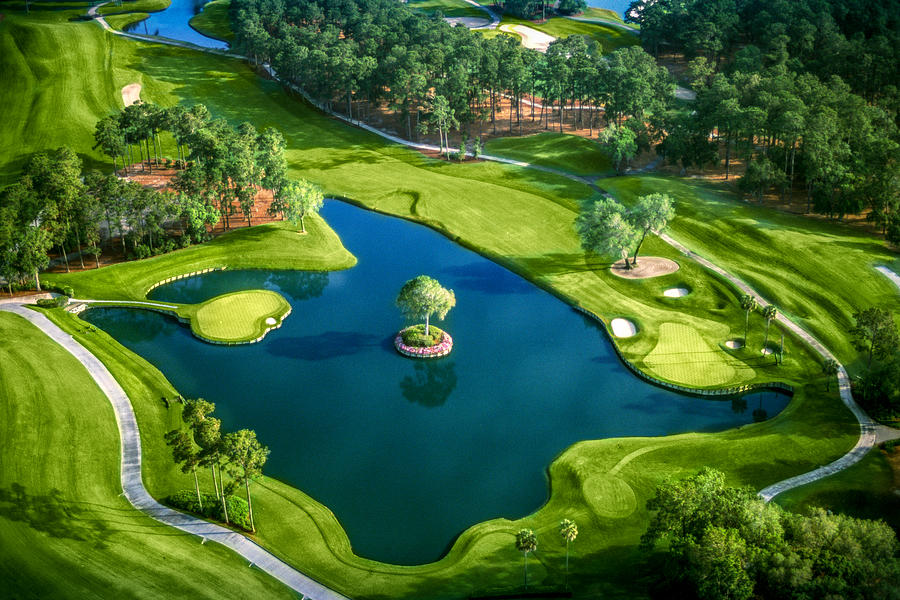 So, you watched The Players Championship over the weekend and now you are in the mood to play some golf. No worries – we got you covered. But, did you know you can play #17 from TPC Sawgrass right here in Myrtle Beach? That's right! No need to plan a road trip down to Ponte Vedra in Florida – simply call us or book a tee time at The Open Course at World Tour in Myrtle Beach!
World Tour the Open Course is a compilation of memorable holes from various tournaments from around the world. Hole #3 was designed after the short but intimidating Par 3 on the 17thHole at the Stadium Course at TPC Sawgrass, designed by the world-famous Pete Dye. The island green leaves no room for error when playing this knee-knocking hole. The only bail-out is the tiny pot bunker just to the right of the front of the green. So, aim for the hole knowing the only safe spot to land is on the green and hope for a good swing! If you are looking for other Pete Dye designed courses, be sure to check out any of the following: Barefoot Dye Course, The Mooreland Course at Legends, and Prestwick Country Club….. and all located right here in Myrtle Beach.
Pretend you are playing the 17thhole on the final Sunday of the Players Championship and give it your best shot. World Tour golf course in Myrtle Beach is a great way to play the memorable holes on famous golf courses, all without leaving the comforts of Myrtle Beach. From the Masters amen corner to British Open inspired holes, you can play them all in one round when you book your Myrtle Beach tee time at World Tour golf course.
Comments