You have probably heard about some of the Myrtle Beach golf courses closing for a period of time this summer. Want to know why and who is closed and who is open? Some of the Myrtle Beach golf courses are starting to get back to full strength following an outbreak of winterkill damage that caused more than a dozen Myrtle Beach golf courses to close at least nine of their holes for renovations to the greens.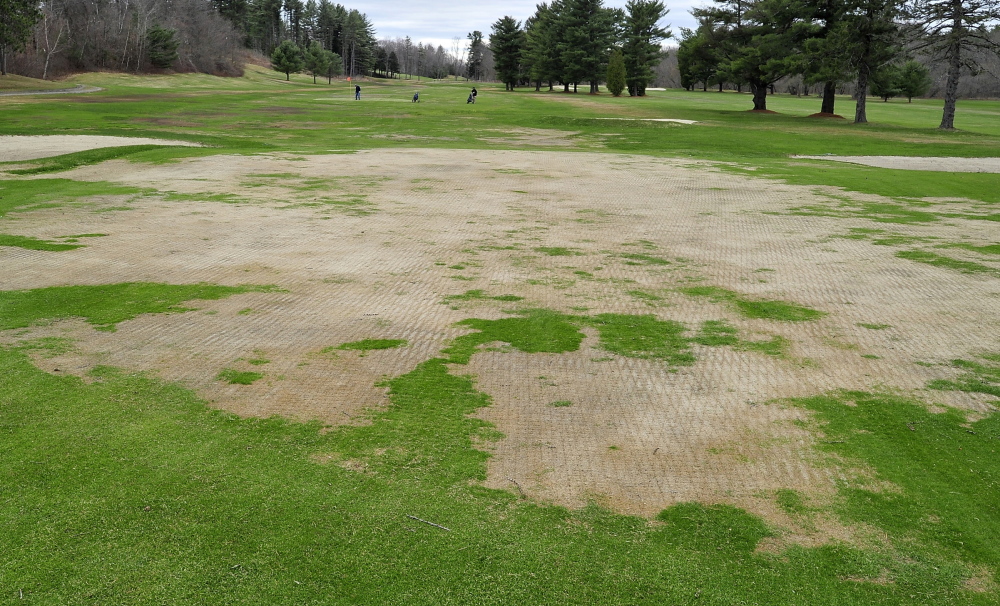 Four courses have reopened with new greens while the others are close to reopening, are in the midst of renovations or have largely recovered as Bermudagrass thrives in the summer heat.
International Club of Myrtle Beach, Aberdeen Country Club, Panther's Run Golf Links and Lion's Paw Golf Links have all reopened 18 holes with new greens.
International Club in Murrells Inlet closed on Memorial Day and reopened July 16thwith ultradwarf Bermuda greens. While the golf course was closed, they decided to aerate the entire course, improve bunker drainage on a number of holes and tidy up landscaping around the course, including new mulch around the clubhouse.

Panther's Run at the four-course Ocean Ridge Plantation Complex in Sunset Beach, N.C., closed on June 4 and reopened July 19th with TifEagle ultradwarf Bermuda greens that replaced their previous MiniVerde Bermuda greens. There will also be sand trap renovations and sod added to perimeter areas of holes on the course that have thinned out within the next few months.
Lion's Paw, another Ocean Ridge course, closed on June 4 and reopened on June 15 with 10 new greens that were sodded with MiniVerde ultradwarf Bermuda to match the course's other eight greens. Ocean Ridge is running special pricing this summer.
Aberdeen Country Club closed June 9 and reopened 18 of its 27 holes on July 9 after seven greens on the Woodlands and Meadows nines were replanted with TifEagle sprigs.
Aberdeen's Highlands nine is still closed as its ninth green has been sodded and other greens continue to recover, and it could reopen the first of August. They also decided to do some painting and cleaning while the entire course was closed.
The Bay nine at the 27-hole Sandpiper Bay Golf Club in Sunset Beach, N.C., is expected to reopen the first week of August with new Bermuda greens, and the course has a full 18 holes with the reopening of four greens with Sunday Bermuda on the Sand nine.
All but one green at the 54-hole Sea Trail Plantation in Sunset Beach, N.C., are open after a number of greens were sodded with Champion Bermuda in June. Six temporary greens were being used on the Byrd and Jones courses, and all but one on the Byrd Course are no longer needed. That green should reopen in a few days.
Long Bay Club in Longs is expected to reopen within a couple weeks. It closed on June 14 to allow its Champion Bermuda greens to recover.
Brick Landing in Ocean Isle Beach, N.C., is the last course to close for renovations and they are replacing the Jones Bermuda greens with Sunday Bermuda. The course closed on June 28 and has an anticipated reopening on Sept. 12.
While the course is closed, the third fairway is being redone, approximately 30 trees are being removed to decrease shade around greens and hopefully improve conditioning, sprinkler heads around greens have been replaced, and a couple tee boxes have been sodded. The driving range teeing area and practice putting green are also being renovated.
The following courses are currently closed and replacing the greens, all are expected to re-open later this summer: Glen Dornoch Waterway Golf Links, Tradition Club, Myrtlewood Golf Club's PineHills Course, Indigo Creek Golf Club, Diamondback Golf Club and Legends Resort's Moorland Course.
Winterkill is a term used to describe grass that is damaged or killed by harsh winter conditions. It affects warm-season grasses, and warm-weather Bermuda is the predominant turf on greens, tees, fairways and roughs here in Myrtle Beach.
It's believed the widespread winterkill was caused by several consecutive days of below-freezing weather in early January, and was exacerbated by frosts in March following a very warm February.
Comments