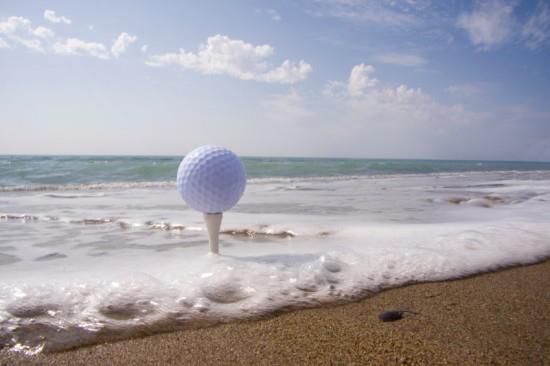 Traditional Myrtle Beach golf vacations usually occur during the spring and fall, when temperatures are optimal. But, the summer months are great options as well, and they are just around the corner. The prices are lower, the Myrtle Beach golf courses aren't as crowded and you can even kill two birds with one stone – while your family is on the beach, why not head over and get a round of golf in and then meet back up with them for an afternoon in the water before heading out for nighttime fun festivities? So, since the summer months it can get pretty hot out there on the links we have a few suggestions to help you gear up with the proper attire and gadgets to make sure that you beat the heat during your Myrtle Beach golf rounds. Here are some great choices to stay cool during your Myrtle Beach golf and/or beach vacation.
Performance/Moisture-Wicking Polos
These polos are usually lightweight and breathable shirts and are essential to staying cool out on the links. One recommendation is the Under Armour UA Performance polo, which has been a favorite of golfers for many years. They come in a wide variety of colors and sizes – something for every golfer out there. Moisture-wicking polos effortlessly wicks away sweat to keep your skin dry and offers zero friction to ensure no clinging during your swings. Most performance polos also offer sunscreen protection as well, with 30+ protection and some even offer anti-odor technology to ensure that your sweat wont' turn into stinky odors.
Nike Golf UV Sun Bucket Hat
A great golf hat is a must-have for keeping the shining sun off our domes, especially for those of us with a little less hair up top (by choice or by genetics). The Nike Golf UV Sun Bucket hat is perfect for providing 360 degrees of shade with a look that is equal parts class, style, and functionality. The Nike Flex fabric stretches for a one-size-fits-all fit while Dri-FIT technology wicks sweat away to ensure your head stays cool and dry. On top of all of this, SPF 40+ protection ensures that your scalp won't suffer from a nasty case of sunburn.
Alfamo Cooling Towel
Many of the Myrtle Beach golf courses offer coolers on their golf carts. Why not take advantage of this by stocking them full of tasty beverages and a couple nice, soothing cooling towels? These lifesavers measure 40" by 12" and can help cool your surface body temperature by up to 30 degrees! Wouldn't that be a welcome relief during a hot and humid day in the sun? Sure, many of these cooling towels have a texture that is like plastic, but Alfamo towels have a much softer and more pliable texture to form easily around your neck, head, back or just about anywhere you need cooling action. These cooling towels also come with an anti-bacterial carrying pouch and provide a whopping SPF 50 sun protection.

Gear like this (along with sunscreen – don't forget this important feature!) will help you keep those summer rounds of golf enjoyable. Now that you've got the tools for the trade and insider summer Myrtle Beach golf knowledge, you need to book that tee time! Better yet, why not plan your next Myrtle Beach golf package! The pros at Myrtle Beach Golf Authority are here to make sure you get the perfect combination of top notch accommodations and tee times at all the golf courses you want to play – that makes for an unbeatable Myrtle Beach golf vacation! Book your tee time today, or call our specialists to help you plan your next Myrtle Beach golf trip!
Comments
Call: 888-272-7263