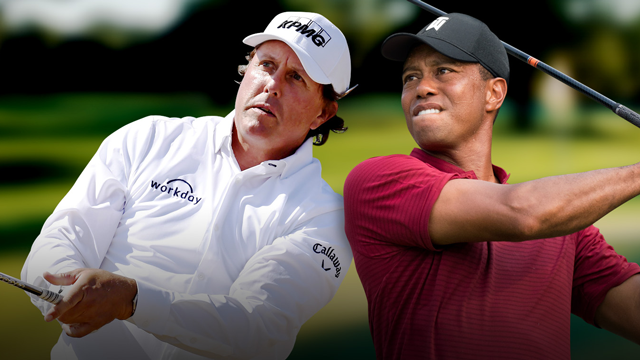 There were two schools of thought on the Tiger vs. Phil golf match entering last Friday. You could either see this charade as an exclusive, transparent cash grab for two men who are already uber-mega rich, or a deserved and welcomed bout between two icons that have done more than their part in growing the sport internationally over the last quarter-century. The stash of cash was old and tired, and the whole premise seemed a bit contrived. It was all of that, but it also generated a great deal of interest in the game of golf in late November. While we might think of the whole thing as a failure – the idea shouldn't be given up on.
Some of us golfers really never got into the match, but it wasn't necessarily for us, but for the new golf fans, the general masses – and of course, those Tiger fans that will watch anything that he shows up for.
With that being said, let's not mince words. It generated that wave of interest and brought in new viewers but was it really what will bring a first-time golf viewer to the game? It was pretty boring (yes, we know – golf is not that exciting anyway). The drama was slowto develop. The first two and a half hours was snooze worthy. We got some banter, but it felt forced. The side bets between Tiger and Phil were hard to follow and track. The broadcast, well, it was horrible. They struggled with streaming issues and many of the paying fans missed the start. None of those factors help a one-on-one, pay-per-view, no-commercials golf event with a slim margin for error — even with two of the game's biggest stars.
But, what was the biggest reason Shadow Creek felt flat for the majority of the afternoon? The golf just wasn't quality. We weren't getting vintage golf of either player and the side bets (contrived as they were) weren't enough to save the show. Phil led 1-up through the front nine with both players hardly playing their best. Somewhere around the 12thhole, something clicked. Something turned. It became less show and more golf, and two guys who spent most of their careers compared to each other actually started to compete against each other…….for real.
Phil ended up winning, and he won lots of money. That part was forgettable. What was memorable was that the finish still delivered. We got four holes of solid finishing golf that we would rave about if it came in another tournament setting. The Tiger chip-in alone would circulate in highlights for years, even if it came at, say, the Barbasol Championship.
Bottom line? It's exceptionally hard to create a golf broadcast off just two players. Golf needs more than just two players. The game needs depth: cutaways to other players making a run a couple holes ahead, and check-ins on players a couple of holes behind. Most stars need supporting casts, and most tournaments weekends come with that. Especially during the rounds of a golf broadcast.
These one-off type one-on-one events are good for the game. Monday Night Golf was awesome, drew huge ratings in the early 2000s, and there's likely still an appetite for that sort of alternate format. It's just a lot to depend on only two players, no matter how big they are, to carry a broadcast for four or even five hours. There's plenty of room for an undercard, or partners, or, you know, actual real galleries with real people.
Golf shouldn't stop doing new things. It shouldn't stop trying to get the game into different consumable formats, and in front of different audiences. This was an attempt at something new, and attempts to do different things should be taken. The Match had plenty of rough spots, but it also had lots of people talking about golf on a late Friday in November, and that is a good thing for the game of golf.
Comments