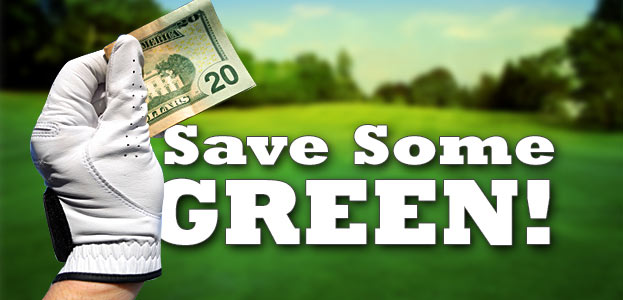 When playing one of the 80+ golf courses on the Grand Strand, one always wants to find the best deals. So, where do you start? Myrtle Beach golf discounts can be found at a variety of places, including online around the area, you just need to know where to look. That's where we can help! Here are a few tips on where to find some awesome golf discounts:
At the Golf Courses
Most of the Myrtle Beach golf courses will offer discounts, especially when you are booking your tee times during the off season (Nov – Feb and June – August) or looking for a round in the next 24-48 hours. If you are not particular about playing at a certain time, check out our site for the beast rates available for the next 48 hours. One might be surprised at the amount of money you can save if you are flexible.
Online Package and Tee Time Sites
In the Myrtle Beach area there are a lot of package providers that have special rates for guests that are not in town for a golfing vacation, but decide to get in a round or two. They know the courses well and feature different courses at special rates. If you are looking for a great Myrtle Beach golf discount and are willing to play the courses that they have featured for the special rate, check the online package providers for some super deals, we recommend our sister company - Myrtle Beach Golf Authority! Even the locals get in on the Myrtle Beach golf discounts offered online at these sites – it's hard to pass up a good deal!
Discount & Coupon Books
Everywhere you look in the various stores around the Grand Strand, you will find coupon books. When looking for Myrtle Beach golf discounts, don't forget these books! You will every kind of discount from golf courses to mini-golf to dining and attractions. Have fun both on and off the golf course! Don't forget that most coupon books offer the discounts for everyone in the entire party, so feel free to invite all your buddies to join you.
Comments