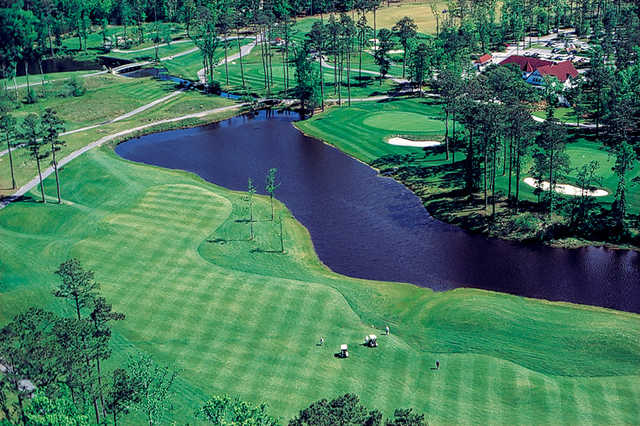 Heather Glen Golf Course is set to close it's doors as early as the first of December, 2017. This comes after months of speculation of the pending sale of the property to D.R. Horton for residential housing development. A request for rezoning that the owner of the course submitted to the county back in July is up for approval. If approved, the development of the 27 hole facility that covers more than 420 acres would begin for nearly 1100 units, including almost 800 single family homes and 285 duplex units.
According to the general manager of The Glens Group (operators of Heather Glen) a housing developer (DR Horton) has entered into a contract to purchase the course, but is contingent upon the rezoning approval that was submitted to Horry County. August 3rd is the date with the Horry County Planning Commission would meet and the submittal is on the agenda. The approval of 3 readings by the Horry County Council is needed in order for the rezoning to take effect. It has been approved at two of them.
The 30 year old course opened originally as an 18 hole Williard Byrd design in 1987, and later in 1990 opened another 9, designed by Clyde Johnston. The course consists of 420 acres, 42 of which are wetlands. The talk of Heather Glen closing started back on Monday, July 17th. While Heather Glen remains open, it will be maintained at the same level as the other Glens Group Courses – Glen Dornoch, Shaftsbury Glen, and Possum Trot.
The Glens Group Courses are a favorite among our players, and we feature "The Glens Ultimate Package" where you will play all 4 of the Glens Group Courses – including Heather Glen. Book a round or two at Heather Glen – before they close and turn a wonderful 27 hole golf course into more housing. We are sad to hear this news as Heather Glen was one of our favorite courses that we liked to play and many of our groups requested each time that they traveled to Myrtle Beach for their golf vacation.Through the month of November, we encourage everyone (local and visitor) to take the opportunity to play Heather Glen while they can – we will promise you that you will be glad that you did.
Comments