Family Kingdom Amusement Park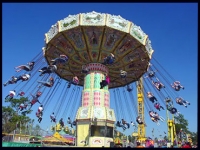 Visitors looking for a special place to go with their families have plenty of options. However, the best place in Myrtle Beach, SC is Family Kingdom Amusement Park, the only seaside amusement park in the area. Family Kingdom has enough fun for everyone. The park features over 30 thrilling rides, including an amazing wooden roller coaster that is perfect for adrenaline junkies.

The 110-ft. free fall Slingshot Drop Zone is perfect for enticing shrills of excitement and fear for even the most avid thrill ride seeker. In addition, an oceanfront waterpark sits right across the street so you can stay cool during those hot summer months. After playing a round of golf at one of the many championship golf courses along the Grand Strand, the water park is a perfect respite for avid golfers. Families can enjoy all of the fun and excitement that is by the amusement park and the adjacent waterpark at a terrific value that saves money.

There are plenty of options for younger and older children ranging from kiddie rides to bumper cars and Go-Kart tracks. Enjoy a competitive race around the track with your family during this Myrtle Beach Vacation. Adults will have just as much fun as their children. The air is vibrant with energy, laughter, and excited shrieks of joy. Stepping foot into Family Kingdom Amusement Park is one experience that cannot be missed.

This park is dedicated to the young and the young at heart in order to deliver the most memorable experience on the Grand Strand.