Carolina Safari Jeep Tours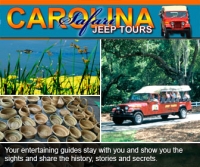 Carolina Safari Jeep Tours in Myrtle Beach, South Carolina offers an extensive guided tour of Myrtle Beach. The guides on this tour are extremely knowledgeable of the area and its wildlife, vegetation, history and folklore. The tour truly covers all the bases. This guided tour is a three-hour adventure into the history and habitat of Myrtle Beach and encompasses many types of information from current wildlife and fauna to the rich and varied history of the area.
Not only will visitors get to explore salt marshes, but they will be treated to the site of a 15th century style Moorish castle, hear local tales and legends and visit rice plantations. Tales of the intertwining of several different peoples, including that of Native American, Spanish, French, British and African coming together to form a rich mix of cultures unique to the Southeastern area of the United States. Also along the trip, tourists witness authentic slave cabins and centuries old chapels, and hear about the Gullah island culture, which is as unique and steeped in just as much history as the area itself.
There is nowhere else in the area that offers such a fun learning experience as Carolina Safari Jeep Tours. Exploring every facet of Myrtle Beach, SC, for the ecological and geological aspects, to historical and even covering the ghost lore of the area, should not be missed!