Broadway at the Beach
Broadway at the Beach is an all-encompassing entertainment and shopping experience. This area, located at the heart of Myrtle Beach, offers a variety of restaurants, shops, nightclubs and attractions to please tourists and locals alike. Shoppers can peruse the goods offered at a multitude of shops and boutiques in the Charleston area, the bright Caribbean themed village, the New England Village or Heroes Harbor.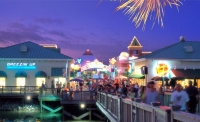 The sights, sounds and smells along this amazing expanse of waterfront are truly awe-inspiring. There are many shopping options available, with a wide range of goods from souvenirs to fine fashions, home décor to furnishings.

When in need a repast, visitors may choose from 22 different restaurants and several lighter fare options. With many familiar chain restaurants as well as unique local eateries, the dining choices are myriad and endless, from seafood and steaks to ice cream and gourmet coffee shops. Nestled among the shops and restaurants are a number of fun, interesting and entertaining attractions.

WonderWorks is one such attraction, with mind stimulating and hands on exhibits that thrill children and adults alike. Ripley's Aquarium and Carousel Park are just two of many activities that one might partake of while visiting this large center.