Crow Creek Golf Club
Crow Creek Golf Course was designed by architect Rick Robbins and has ranked among the "Top 50 Golf Courses in North Carolina" to play. A short drive from Myrtle Beach to Calabash, North Carolina, the low-country course has TifSport Bermuda fairways and L-93 Bentgrass greens year round. Crow Creek's design has many challenges for golfers especially chipping from the bunkers. The clever design makes this a conciliatory challenge for anyone ready to take on the lush greens and subtle terrains. The extensive and flat front nine meanders over former tobacco fields while the back nine traverse the rolling curves of the Carolina Woodlands with its tree-lined fairways.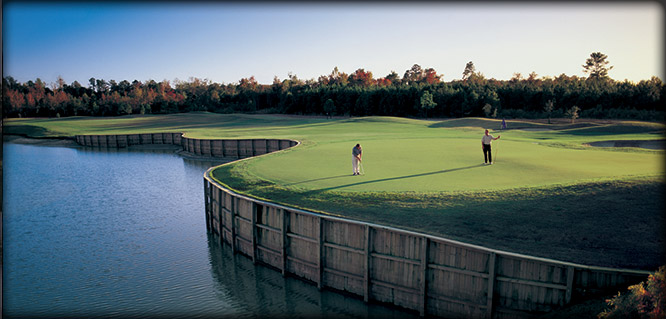 Quaint wooden bridges stretch over the course, which then finishes up at the Lowcountry Clubhouse. Crow Creek is a golfer's haven full of club amenities including six miles of walking trails, a swimming pool, tennis courts, an exercise facility, and a club lounge. The club lounge area has large screen televisions to watch after a game of golf. There is even a Jacuzzi to alleviate sore muscles after finishing your round of golf. Golfers, this is the course to play when combining golf and business meetings. Crow Creek Golf Club resides close to hotels in Myrtle Beach and others along the Stateline.
It is no wonder North Carolina Magazine listed Crow Creek as one of the top 50 courses in all of North Carolina. The course maintains ideal conditions year-round and since it's opening in 2000, golfers have been making the drive to this course every time they visit the Grand Strand. Also, be sure to check out Crow Creek's golf packages. And while on your golf vacation, remember to visit the beautiful Carolina beaches.
| | | | | | | | | | | |
| --- | --- | --- | --- | --- | --- | --- | --- | --- | --- | --- |
| Front | | | | | | | | | | |
| Hole # | 1 | 2 | 3 | 4 | 5 | 6 | 7 | 8 | 9 | |
| Black | 399 | 428 | 545 | 424 | 386 | 200 | 574 | 193 | 429 | |
| Blue | 366 | 411 | 522 | 375 | 384 | 195 | 559 | 168 | 388 | |
| White | 330 | 375 | 471 | 325 | 352 | 167 | 533 | 143 | 349 | |
| Gold | 330 | 337 | 432 | 325 | 314 | 134 | 484 | 143 | 310 | |
| Red | 291 | 303 | 432 | 287 | 263 | 98 | 441 | 106 | 310 | |
| HNCP | 11 | 7 | 3 | 9 | 13 | 15 | 1 | 17 | 5 | |
| Par | 4 | 4 | 5 | 4 | 4 | 3 | 5 | 3 | 4 | |
| | | | | | | | | | | |
| | | | | | | | | | | |
| | | | | | | | | | | |
| Back | | | | | | | | | | |
| Hole # | 10 | 11 | 12 | 13 | 14 | 15 | 16 | 17 | 18 | |
| Black | 408 | 368 | 562 | 169 | 439 | 420 | 208 | 411 | 538 | |
| Blue | 380 | 336 | 539 | 142 | 412 | 391 | 186 | 389 | 536 | |
| White | 347 | 309 | 505 | 131 | 379 | 359 | 156 | 351 | 517 | |
| Gold | 296 | 309 | 463 | 131 | 379 | 317 | 156 | 310 | 458 | |
| Red | 269 | 219 | 434 | 101 | 344 | 317 | 130 | 310 | 415 | |
| HNCP | 12 | 14 | 2 | 18 | 6 | 8 | 16 | 10 | 4 | |
| Par | 4 | 4 | 5 | 3 | 4 | 4 | 3 | 4 | 5 | |
240 Hickman Rd Sw ,Calabash NC 28467