Barefoot Resort Love
A tradition of the Lowcountry shines through at the famous Barefoot Resort. Course designer Davis Love III, a native of the Carolinas, incorporates Southern plantation ruins with modern golf. For added challenge, Love has strategically placed the plantation ruins throughout holes 3-7. Unforgettable South Carolina golf for all skill sets is played at the Love Course.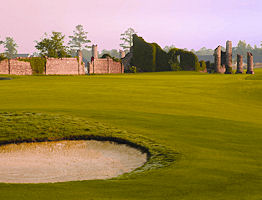 The Lowcountry course features a striking resemblance to Pinehurst #2 at the 1999 U.S. Open with generous landing areas and green complexes. The Love Course is a par 72 and plays over 7,000 yards. Fairways and tees consist of a GN-1 hybrid turf. The approach areas consist of Tif-sport Bermuda grass, and the greens are Champion UltraDwarf. The Love Course is rated one of the best golf courses on the Grand Strand. While the course is playable by both skilled and beginner golfers, rewarding shots are made at hole 4 a split river design. Why play the Love Course? Many golfers continue to book the Love Course for their golf vacation to experience the unique drop-offs and undulating layouts.
The Love Course is added to other golf trips because golfers enjoy playing courses designed by Love, Norman, Fazio, and Dye. Since golfers don't want to spend a lot of time traveling to tee times, many Myrtle Beach hotels are nearby and close to Barefoot Resort. When the sun sets, Myrtle Beach resorts and attractions come alive. Broadway at the Beach offers a variety of nightlife to suit any music style.
| | | | | | | | | | | |
| --- | --- | --- | --- | --- | --- | --- | --- | --- | --- | --- |
| Front | | | | | | | | | | |
| Hole # | 1 | 2 | 3 | 4 | 5 | 6 | 7 | 8 | 9 | |
| Platinum | 381 | 518 | 191 | 294 | 463 | 403 | 450 | 552 | 235 | |
| Black | 352 | 483 | 169 | 280 | 443 | 370 | 426 | 525 | 207 | |
| White | 321 | 455 | 144 | 265 | 420 | 340 | 398 | 485 | 187 | |
| Green | 268 | 455 | 139 | 252 | 400 | 300 | 357 | 468 | 160 | |
| Gold | 243 | 437 | 116 | 247 | 395 | 281 | 315 | 444 | 139 | |
| HNCP | 13 | 7 | 15 | 17 | 1 | 9 | 5 | 3 | 11 | |
| Par | 4 | 5 | 3 | 4 | 4 | 4 | 4 | 5 | 3 | |
| | | | | | | | | | | |
| | | | | | | | | | | |
| | | | | | | | | | | |
| Back | | | | | | | | | | |
| Hole # | 10 | 11 | 12 | 13 | 14 | 15 | 16 | 17 | 18 | |
| Platinum | 367 | 136 | 456 | 484 | 439 | 228 | 412 | 442 | 596 | |
| Black | 345 | 123 | 421 | 470 | 402 | 172 | 375 | 420 | 559 | |
| White | 321 | 109 | 393 | 447 | 361 | 154 | 332 | 389 | 534 | |
| Green | 296 | 109 | 385 | 420 | 361 | 154 | 300 | 353 | 466 | |
| Gold | 275 | 100 | 370 | 416 | 337 | 127 | 295 | 355 | 454 | |
| HNCP | 16 | 18 | 2 | 8 | 10 | 14 | 12 | 6 | 4 | |
| Par | 4 | 3 | 4 | 5 | 4 | 3 | 4 | 4 | 5 | |
4980 Barefoot Resort Bridge Rd. ,North Myrtle Beach SC 29582