Witch
The Witch golf course is another remarkable Myrtle Beach golf club designed by Dan Maples. Maples created a thrilling layout on 500-acres of secluded land between Conway and Myrtle Beach, South Carolina. The course is free from the distractions. No backyards. No hotels. No commercial developments. The Witch was named for its beautiful surroundings and deceptive holes. While other Myrtle Beach golf courses offer risk and rewards, the Witch - rewards big. Golf Digest gives this exciting course an impressive 4.5 star ranking. Locals and tourists alike find the Witch to be a captivating favorite among other Myrtle Beach golf courses.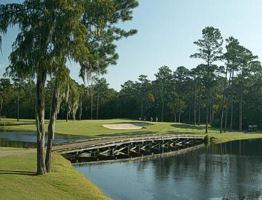 This Myrtle Beach golf course consists of bridges, wetlands, undulations, and oyster beds. The Witch stretches over a wildlife preserve and creates a "mystical" golfing experience by showcasing sand bunkers, lakes, and contrasting elevations. Located on a natural terrain makes it not uncommon for golfers to encounter native inhabitants ranging from waterfowl to alligators. Watch each step and steer clear of the water. The water hazards are not just for balls but also gators!
The Witch is cleverly designed and offers outstanding Myrtle Beach golf. Golf vacation packages are available and recommend. Saving you moolah! Golf packages often include last minute golf tee times and fabulous accommodations at Myrtle Beach resorts, Myrtle Beach condos, and Myrtle Beach oceanfront hotels.
Visit Myrtle Beach! Your next golf vacation is only a few clicks away.
| | | | | | | | | | | |
| --- | --- | --- | --- | --- | --- | --- | --- | --- | --- | --- |
| Front | | | | | | | | | | |
| Hole # | 1 | 2 | 3 | 4 | 5 | 6 | 7 | 8 | 9 | |
| Back Tees | 425 | 420 | 169 | 390 | 574 | 450 | 186 | 599 | 376 | |
| Middle Tees | 390 | 394 | 129 | 325 | 535 | 414 | 152 | 569 | 349 | |
| Forward Tees | 317 | 320 | 70 | 282 | 470 | 344 | 102 | 477 | 217 | |
| Par | 4 | 4 | 3 | 4 | 5 | 4 | 3 | 5 | 4 | |
| | | | | | | | | | | |
| | | | | | | | | | | |
| | | | | | | | | | | |
| Back | | | | | | | | | | |
| Hole # | 10 | 11 | 12 | 13 | 14 | 15 | 16 | 17 | 18 | |
| Back Tees | 390 | 562 | 193 | 533 | 143 | 432 | 387 | 177 | 390 | |
| Middle Tees | 362 | 544 | 170 | 509 | 132 | 396 | 355 | 166 | 368 | |
| Forward Tees | 277 | 387 | 113 | 409 | 86 | 301 | 276 | 112 | 252 | |
| Par | 4 | 5 | 3 | 5 | 3 | 4 | 4 | 3 | 4 | |
1900 Highway 544 ,East Conway SC 29526