Whispering Pines Golf Club
The Whispering Pines Golf Course is nestled in the heart of the Grand Strand and conveniently located just half a mile from fantastic attractions and affordable accommodations that include Myrtle Beach condos, Myrtle Beach resorts, and Myrtle Beach vacation rentals. Architects Dye, Finger, and Spahn created the course layout to enhance the breathtaking surroundings accented by giant pines and mature hardwoods. Boasting over 6,770 yards, Whispering Pines offers plenty of challenges and enjoyable golf.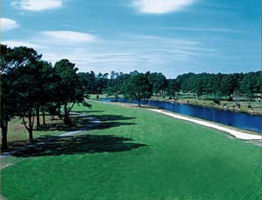 At Whispering Pines, golfers are kept on their toes with strategically placed sand bunkers, water hazards, tree lined fairways, and finger lakes. Beautiful TifEagle Bermuda greens set the playing field. The course has an above average slope and accommodates all handicap ratings. Both experienced and beginner golfers agree that this is a must play Myrtle Beach golf course. As a no backyard - distraction free golf course, there are no excuses for not making the perfect shot.
On your next golf vacation, play Whispering Pines and cash-in on your extraordinary golf discount. The centralized location and welcoming staff make golfers return year after year. When it's time to relax, the clubhouse is the perfect retreat. Need fine-tuning or course tips? Golf lessons are available at Whispering Pines Golf Academy. Whispering Pines is a non-metal spike course and offers a spike changing service.
Every golf vacation should include a round at this Myrtle Beach golf course. Myrtle Beach golf deals are available when booking tee times early. Golf Myrtle Beach and include Whispering Pines Golf Club when reserving future Myrtle Beach golf packages! Book your Myrtle Beach tee time now at Whispering Pines, No Gimmicks…Just Satisfying Golf!
| | | | | | | | | | | |
| --- | --- | --- | --- | --- | --- | --- | --- | --- | --- | --- |
| Front | | | | | | | | | | |
| Hole # | 1 | 2 | 3 | 4 | 5 | 6 | 7 | 8 | 9 | |
| Blue | 405 | 433 | 518 | 335 | 177 | 437 | 171 | 329 | 304 | |
| White | 401 | 429 | 503 | 330 | 167 | 429 | 159 | 315 | 294 | |
| Gold | 380 | 404 | 462 | 320 | 156 | 405 | 142 | 287 | 288 | |
| Red | 350 | 400 | 454 | 310 | 146 | 395 | 116 | 284 | 284 | |
| HNCP | 5 | 7 | 1 | 13 | 15 | 3 | 17 | 9 | 11 | |
| Par | 4 | 4 | 5 | 4 | 3 | 4 | 3 | 4 | 4 | |
| | | | | | | | | | | |
| | | | | | | | | | | |
| | | | | | | | | | | |
| Back | | | | | | | | | | |
| Hole # | 10 | 11 | 12 | 13 | 14 | 15 | 16 | 17 | 18 | |
| Blue | 362 | 383 | 297 | 190 | 405 | 518 | 226 | 398 | 391 | |
| White | 352 | 364 | 262 | 172 | 401 | 496 | 202 | 384 | 383 | |
| Gold | 348 | 324 | 271 | 150 | 395 | 466 | 189 | 365 | 370 | |
| Red | 344 | 318 | 229 | 145 | 395 | 462 | 180 | 342 | 364 | |
| HNCP | 8 | 12 | 14 | 18 | 4 | 2 | 16 | 10 | 6 | |
| Par | 4 | 4 | 4 | 3 | 4 | 5 | 4 | 4 | 4 | |
900 Harrelson Blvd. ,Myrtle Beach SC 29577