Possum Trot Golf Course
Located in North Myrtle Beach, Possum Trot is of the first ten golf courses in Myrtle Beach to be built. As a classic Russell Breeden design, it's known as the most amiable of all Myrtle Beach golf courses. Locals and tourists alike agree that Possum Trot rolls out the red carpet, making all guests feel like VIP's and lives up to the name as "Friendliest Course on the Strand". The course is home to a world-class golf academy and one of Myrtle Beach's top three golf practice facilities. Possum Trot is housed by the Glens Golf Group, a group that encompasses a number of elite courses such as Glen Dornoch, Shaftesbury Glen and Heather Glen.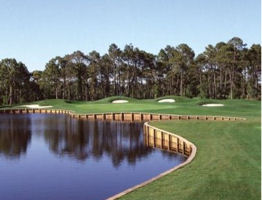 Wide-open fairways, access to a complete golf training center, and memorable par -5s make Possum Trot a favorite addition to golf vacation packages, no matter the handicap. No doubt- this golf course in Myrtle Beach offers a variety of shot opportunities and challenges for all skill levels. The straightforward design with tree-lined fairways, ponds, rolling terrain, and bunkers adjoining large undulating greens are a few golfing challenges. Tee-shot accuracy is required at the 7th-hole. Although the 7th-hole is a short distance (340 yard par 4), it presents golfers with many challenges and is nicknamed "Pesky". Do you desire to successfully play through this hole? Use a 3 wood and not a driver. The other holes will require strategy as you plan your layup and the approach over the water.
Each hole at Possum Trot offers an experience like no other, right down to naming the holes. Ham it up with your golf buddies at "T'aint Easy", "Little Possum", "Analysis is Paralysis", and "Big Possum". "Oh, No" #18 is Possum Trot's finishing hole and has a close view of the fountain pond and clubhouse. Long hitters beware…you will have to play an uphill fairway and work against the ocean breeze to get on in two.
Possum Trot is a perfect addition to any golf vacation. Golf Digest listed it as "Places to Play" with a 3.5 star rating, "Best On-Course Practice Facility in Myrtle Beach", and "Most Underrated Golf Course in Myrtle Beach". The course also has a premium pro shop that is fully stocked with all name brand golf essentials and one-of-a-kind Possum Trot logo apparel.
Golf packages are available. Discount golf is usually available when booking golf tee times early. Golf at Myrtle Beach!
| | | | | | | | | | | |
| --- | --- | --- | --- | --- | --- | --- | --- | --- | --- | --- |
| Front | | | | | | | | | | |
| Hole # | 1 | 2 | 3 | 4 | 5 | 6 | 7 | 8 | 9 | |
| Blue | 533 | 390 | 415 | 530 | 410 | 208 | 360 | 185 | 438 | |
| White | 500 | 355 | 380 | 485 | 368 | 150 | 340 | 170 | 408 | |
| Gold | 481 | 299 | 305 | 472 | 352 | 130 | 282 | 150 | 319 | |
| Red | 420 | 291 | 293 | 405 | 313 | 120 | 274 | 138 | 310 | |
| HNCP | 10 | 8 | 4 | 6 | 12 | 16 | 14 | 18 | 2 | |
| Par | 5 | 4 | 4 | 5 | 4 | 3 | 4 | 3 | 4 | |
| | | | | | | | | | | |
| | | | | | | | | | | |
| | | | | | | | | | | |
| Back | | | | | | | | | | |
| Hole # | 10 | 11 | 12 | 13 | 14 | 15 | 16 | 17 | 18 | |
| Blue | 500 | 460 | 390 | 203 | 385 | 393 | 205 | 426 | 535 | |
| White | 471 | 430 | 350 | 163 | 347 | 374 | 168 | 395 | 489 | |
| Gold | 433 | 343 | 330 | 115 | 318 | 319 | 119 | 316 | 422 | |
| Red | 419 | 335 | 315 | 106 | 278 | 305 | 111 | 310 | 410 | |
| HNCP | 7 | 1 | 17 | 9 | 13 | 11 | 15 | 3 | 5 | |
| Par | 5 | 4 | 4 | 3 | 4 | 4 | 3 | 4 | 5 | |
1170 Possum Trot Rd. ,North Myrtle Beach SC 29579