Legends Heathland
The Legends Heathland Golf Course resides at the legendary Legends Golf and Resort in Myrtle Beach. Heathland is a Tom Doak design with the layout resembling the British Isles links courses. The "Old Country" links course features familiar holes from St. Andrews, Lahinch, and Cruden Bay.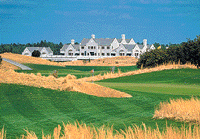 The par 71 Scottish-links course has wide-open fairways and very little vegetation. Strategically placed pot bunkers, fairways boarded by deep rough, sporadic streams, and a constant unhindered breeze makes Heathland a challenge. With many greenside deep bunkers, golfers must use creative shots to escape the course's wrath. A favorite among golfers is the 16-hole featuring a 460-yard par 4.
Heathland is deemed one of the best golf courses in Myrtle Beach with a Golf Digest 4.5 Star rating. Play Heathland, where tradition meets modern golf. A Tip for Beginner Golfers: Heathland has strong winds. To ensure your success on approach shots, make sure to hit enough club. You may consider using a 5-iron if the distance calls for a 6-iron.
Book now to play one of the best golf courses in the Grand Strand area.
| | | | | | | | | | | |
| --- | --- | --- | --- | --- | --- | --- | --- | --- | --- | --- |
| Front | | | | | | | | | | |
| Hole # | 1 | 2 | 3 | 4 | 5 | 6 | 7 | 8 | 9 | |
| Blue | 370 | 510 | 399 | 468 | 175 | 496 | 245 | 362 | 465 | |
| White | 345 | 484 | 358 | 450 | 150 | 480 | 220 | 328 | 448 | |
| Green | 301 | 416 | 326 | 415 | 137 | 458 | 185 | 300 | 400 | |
| Red | 253 | 398 | 270 | 347 | 122 | 382 | 130 | 274 | 354 | |
| HNCP | 11 | 9 | 7 | 1 | 17 | 15 | 5 | 13 | 3 | |
| Par | 4 | 5 | 4 | 4 | 3 | 5 | 3 | 4 | 4 | |
| | | | | | | | | | | |
| | | | | | | | | | | |
| | | | | | | | | | | |
| Back | | | | | | | | | | |
| Hole # | 1 | 2 | 3 | 4 | 5 | 6 | 7 | 8 | 9 | |
| Blue | 393 | 463 | 459 | 145 | 343 | 574 | 270 | 194 | 424 | |
| White | 330 | 448 | 420 | 130 | 323 | 529 | 223 | 150 | 387 | |
| Green | 290 | 418 | 378 | 105 | 288 | 484 | 202 | 125 | 367 | |
| Red | 274 | 385 | 323 | 80 | 233 | 423 | 186 | 102 | 280 | |
| HNCP | 8 | 16 | 2 | 18 | 10 | 6 | 14 | 12 | 4 | |
| Par | 4 | 5 | 4 | 3 | 4 | 5 | 4 | 3 | 4 | |
1500 Legends Dr. ,Myrtle Beach SC 29579