Carolina National
Situated in the low-country marshlands of the Lockwood Folly River - just north of Shallotte, North Carolina, this Fred Couples signature course retains two main elements...challenge and precise shot planning. Carolina National is referred to as one of North Carolina's best golf courses. Golf Digest has rated this 27-hole course as one of the most renowned along the eastern seaboard. Since Carolina National continues to maintain a healthy wildlife refuge, they are recognized as an Audubon-Certified Sanctuary.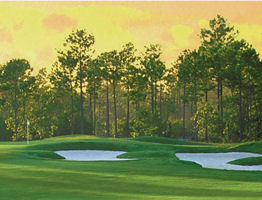 No two experiences are alike at Carolina National. Spanning over 7,000 yards from the tips, golfers will quickly determine the game style needed for them to conquer this course. Three of the nines are named in honor native birds: The Heron, The Egret, and the Ibis. Golfers favor The Heron because of its impressive track of luscious greens and the view of the Lockwood Folly River. There is a green on this nine that is almost completely surrounded by the Lockwood Folly River. The strategically placed trees pose a threat and require golfers to strategically plan their tee shots.
Despite the many great features of Carolina National, this course has flown under the radar for far too long. The course is an exceptional facility with favorable conditions, playability, fair challenges, and abundant scenery. Golf at Carolina National...an outstanding course packed with challenges and rewards. Daily golf deals and discount golf is available year round. Book your Myrtle Beach tee time now!
| | | | | | | | | | | |
| --- | --- | --- | --- | --- | --- | --- | --- | --- | --- | --- |
| Egret | | | | | | | | | | |
| Hole # | 1 | 2 | 3 | 4 | 5 | 6 | 7 | 8 | 9 | |
| Black | 388 | 427 | 577 | 384 | 184 | 445 | 219 | 390 | 388 | |
| Red | 361 | 412 | 548 | 366 | 156 | 412 | 185 | 374 | 361 | |
| Blue | 350 | 357 | 506 | 340 | 138 | 369 | 181 | 316 | 350 | |
| White | 322 | 343 | 463 | 295 | 131 | 309 | 162 | 303 | 322 | |
| Gold | 276 | 300 | 421 | 257 | 106 | 279 | 139 | 271 | 276 | |
| Par | 4 | 4 | 5 | 4 | 3 | 4 | 3 | 4 | 4 | |
| | | | | | | | | | | |
| | | | | | | | | | | |
| | | | | | | | | | | |
| Heron | | | | | | | | | | |
| Hole # | 1 | 2 | 3 | 4 | 5 | 6 | 7 | 8 | 9 | |
| Black | 400 | 530 | 384 | 365 | 203 | 432 | 443 | 173 | 587 | |
| Red | 378 | 502 | 325 | 328 | 191 | 370 | 401 | 158 | 549 | |
| Blue | 361 | 458 | 312 | 312 | 182 | 350 | 374 | 141 | 508 | |
| White | 330 | 420 | 298 | 303 | 162 | 271 | 313 | 112 | 469 | |
| Gold | 318 | 318 | 201 | 243 | 121 | 247 | 267 | 105 | 443 | |
| Par | 4 | 5 | 4 | 4 | 3 | 4 | 4 | 3 | 5 | |
| | | | | | | | | | | |
| | | | | | | | | | | |
| | | | | | | | | | | |
| Ibis | | | | | | | | | | |
| Hole # | 1 | 2 | 3 | 4 | 5 | 6 | 7 | 8 | 9 | |
| Black | 552 | 339 | 420 | 417 | 167 | 431 | 530 | 194 | 394 | |
| Red | 522 | 334 | 389 | 371 | 160 | 351 | 514 | 175 | 372 | |
| Blue | 472 | 325 | 345 | 334 | 138 | 335 | 488 | 166 | 352 | |
| White | 422 | 259 | 330 | 287 | 125 | 310 | 423 | 155 | 329 | |
| Gold | 408 | 250 | 314 | 248 | 106 | 283 | 356 | 124 | 239 | |
| Par | 5 | 4 | 4 | 4 | 3 | 4 | 5 | 3 | 4 | |
1643 Goley Hewett Rd. Se ,Bolivia NC 28422