Myrtle Waves
Myrtle Waves is South Carolina's largest water amusement park, sporting 30 different slides and water attractions and other various amenities offered to its guests. This water park, located in the northern portion of Myrtle Beach, is open from the middle part of May to September each year. With over 20 acres of excitement, this park features one million gallons of water!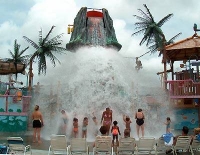 With a family friendly atmosphere and a variety of activities catering to many individual needs, this park is a fantastic stop on any family vacation itinerary or even a fun day activity for residents of Myrtle Beach and nearby areas. The Ocean in Motion Wave Pool is the state's largest wave pool, and with depths of zero to 6 feet, it has something for everyone.

Whether guests would enjoy splashing in the shallow end or catching a wild ride on a four-foot wave, they are sure to enjoy the feeling of the ocean without any sand or seagulls. Bubble Bay is the perfect place for parents and siblings to interact with toddlers, while the Saturation Station picks up the pace and the water pressure.

For the thrill seekers in the group, any of the 30 slides on the park's offer fun in the sun, but Snake Mountain has an option called The King Cobra that promises a wild ride for the brave at heart. The Aruba Tuba takes riders down a long enclosed tunnel and shoots them out into a gigantic bowl where they will go round and round until they meet the center drop!