Thistle Golf Club
8840 Old Thistle Downs Drive, Calabash, North Carolina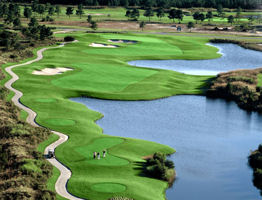 Thistle Golf Club & Estates is a combination exclusive golf course and residential community along the Grand Strand in the quiet town of Sunset Beach, North Carolina. The Thistle features three courses - Cameron, Mackay, and Stewart - and boasts an authentic Scottish feel to it thanks to designer Tim Cate. Cate designed the club based on the Links of Leith, located in Edinburgh, Scotland and traditionally known as the birthplace of golf.

From first glance, the Thistle appears to be a formidable course. However, this course is actually more golfer friendly than it appears. Cate relied on visual deception to make this course appear more cunning and deceptive than it really is. Despite the fact that the course is actually easy going enough for beginners to enjoy, it does entice players of all skill levels to bring forth their best game. The Thistle presents 27 stunning holes, some of the best golfers have seen along the Grand Strand.

The Thistle goes above and beyond, straying away from traditionally used 8-minute tee times to offer 12-minute tee times for a longer, more enjoyable play experience. Combined with the fact that the course is in impeccable shape, it is no wonder golfers travel from all across the country to enjoy this magnificent gem. Players are able to enjoy the game in every traditional sense and thanks to additional tee times, a leisurely pace promotes the most relaxing game in the Myrtle Beach area. This course is a must play for those that truly love the game of golf.
Course Architect
- Tim Cate
Year Opened
- 2000
Course Slope
- 136
Holes
- 27
Thistle Golf Club Scorecard
| | | | | | | | | | | |
| --- | --- | --- | --- | --- | --- | --- | --- | --- | --- | --- |
| Cameron | | | | | | | | | | |
| Hole # | 1 | 2 | 3 | 4 | 5 | 6 | 7 | 8 | 9 | |
| Thistle | 370 | 414 | 433 | 183 | 518 | 421 | 380 | 206 | 525 | |
| Blue | 349 | 356 | 410 | 156 | 475 | 396 | 355 | 109 | 500 | |
| White | 326 | 326 | 363 | 134 | 446 | 376 | 337 | 164 | 477 | |
| Gold | 270 | 271 | 309 | 108 | 428 | 315 | 286 | 144 | 449 | |
| Red | 246 | 251 | 284 | 85 | 368 | 279 | 248 | 106 | 390 | |
| HNCP | 7 | 4 | 5 | 8 | 3 | 6 | 2 | 9 | 1 | |
| Par | 4 | 4 | 4 | 3 | 5 | 4 | 4 | 3 | 5 | |
| | | | | | | | | | | |
| | | | | | | | | | | |
| | | | | | | | | | | |
| Mackay | | | | | | | | | | |
| Hole # | 1 | 2 | 3 | 4 | 5 | 6 | 7 | 8 | 9 | |
| Thistle | 429 | 396 | 211 | 397 | 422 | 184 | 555 | 395 | 558 | |
| Blue | 392 | 350 | 192 | 370 | 399 | 171 | 546 | 368 | 530 | |
| White | 371 | 334 | 159 | 347 | 371 | 144 | 526 | 340 | 500 | |
| Gold | 315 | 301 | 158 | 297 | 353 | 129 | 503 | 294 | 426 | |
| Red | 291 | 277 | 125 | 267 | 261 | 108 | 360 | 266 | 400 | |
| HNCP | 4 | 5 | 9 | 7 | 3 | 8 | 1 | 6 | 2 | |
| Par | 4 | 4 | 3 | 4 | 4 | 3 | 5 | 4 | 5 | |
| | | | | | | | | | | |
| | | | | | | | | | | |
| | | | | | | | | | | |
| Stewart | | | | | | | | | | |
| Hole # | 1 | 2 | 3 | 4 | 5 | 6 | 7 | 8 | 9 | |
| Thistle | 378 | 404 | 193 | 543 | 200 | 545 | 434 | 443 | 211 | |
| Blue | 347 | 333 | 178 | 515 | 186 | 520 | 424 | 411 | 193 | |
| White | 317 | 328 | 156 | 475 | 163 | 486 | 397 | 377 | 177 | |
| Gold | 271 | 304 | 139 | 459 | 139 | 420 | 366 | 315 | 163 | |
| Red | 232 | 243 | 99 | 412 | 99 | 388 | 335 | 270 | 110 | |
| HNCP | 9 | 7 | 6 | 3 | 6 | 5 | 1 | 3 | 4 | |
| Par | 4 | 4 | 3 | 5 | 3 | 5 | 4 | 4 | 3 | |