Shaftesbury Glen
951 Shaftesbury Lane, Conway, South Carolina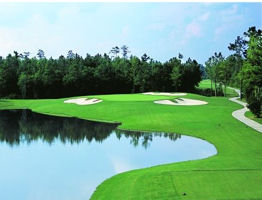 Clyde Johnston deserves recognition for his Shaftesbury Glen Golf and Fish Club design, one of four unique courses at The Glens Golf Group. Taking his inspiration from well-known courses such as Winged Foot and Augusta National, Shaftesbury is a flowing course that makes use of traditionally wide fairways and elevated A1 Bent grass greens. However, golfers should not let the wide fairways fool them. Deceptively placed hazards have seen their fair share of golf balls.

This newest addition to the Myrtle Beach championship courses combine plenty of tantalizing features including flawless bunkers, silky smooth fairways and greens, and some of the best par 3's and one of the most amazing par 5's on the Grand Strand. The stone-gated entrance sets the scene for the Olde English clubhouse that overlooks the breathtaking Waccamaw River. The entire course boasts an English-themed feel to it. Easily accessed via new Highway 22, this course is easy to locate and hard to leave. Golf Digest refers to Shaftesbury as the "Best New Public Course in America".

For those who have never stepped foot onto this stunning course, it is a hidden gem just waiting to be discovered. It features some of the finest holes ever putted and the most immaculate conditions around. The greens and fairways are in superior shape and the big sandy bunkers beckon players to focus on every shot so that they remain immersed in every facet of the game. Plenty of sharp doglegs ensure that players stay adequately challenged while the setting inspires soothing relaxation.
Course Architect
- Clyde Johnston
Year Opened
- 2001
Course Slope
- 130
Holes
- 18
Shaftesbury Glen Golf and Fish Club Scorecard
| | | | | | | | | | | |
| --- | --- | --- | --- | --- | --- | --- | --- | --- | --- | --- |
| Front | | | | | | | | | | |
| Hole # | 1 | 2 | 3 | 4 | 5 | 6 | 7 | 8 | 9 | |
| Blue | 400 | 579 | 414 | 166 | 537 | 380 | 377 | 210 | 450 | |
| White | 366 | 522 | 378 | 148 | 515 | 360 | 348 | 185 | 425 | |
| Gold | 341 | 481 | 351 | 133 | 490 | 318 | 324 | 165 | 400 | |
| Red | 186 | 415 | 296 | 100 | 425 | 254 | 157 | 115 | 322 | |
| HNCP | 11 | 3 | 5 | 17 | 7 | 13 | 15 | 9 | 1 | |
| Par | 4 | 5 | 4 | 3 | 5 | 4 | 4 | 3 | 4 | |
| | | | | | | | | | | |
| | | | | | | | | | | |
| | | | | | | | | | | |
| Back | | | | | | | | | | |
| Hole # | 10 | 11 | 12 | 13 | 14 | 15 | 16 | 17 | 18 | |
| Blue | 360 | 175 | 420 | 519 | 430 | 200 | 520 | 363 | 435 | |
| White | 338 | 157 | 384 | 497 | 408 | 177 | 498 | 329 | 410 | |
| Gold | 317 | 145 | 357 | 475 | 375 | 149 | 473 | 305 | 390 | |
| Red | 241 | 102 | 300 | 434 | 308 | 120 | 441 | 256 | 304 | |
| HNCP | 16 | 18 | 10 | 8 | 4 | 12 | 6 | 14 | 2 | |
| Par | 4 | 3 | 4 | 5 | 4 | 3 | 5 | 4 | 4 | |
Shaftesbury Glen Golf and Fish Club Scorecard
| | | | | | | | | | | |
| --- | --- | --- | --- | --- | --- | --- | --- | --- | --- | --- |
| Front | | | | | | | | | | |
| Hole # | 1 | 2 | 3 | 4 | 5 | 6 | 7 | 8 | 9 | |
| Blue | 400 | 579 | 414 | 166 | 537 | 380 | 377 | 210 | 450 | |
| White | 366 | 522 | 378 | 148 | 515 | 360 | 348 | 185 | 425 | |
| Gold | 341 | 481 | 351 | 133 | 490 | 318 | 324 | 165 | 400 | |
| Red | 286 | 415 | 296 | 100 | 425 | 254 | 257 | 115 | 322 | |
| HNCP | 11 | 3 | 5 | 17 | 7 | 13 | 15 | 9 | 1 | |
| Par | 4 | 5 | 4 | 3 | 5 | 4 | 4 | 3 | 4 | |
| | | | | | | | | | | |
| | | | | | | | | | | |
| | | | | | | | | | | |
| Back | | | | | | | | | | |
| Hole # | 10 | 11 | 12 | 13 | 14 | 15 | 16 | 17 | 18 | |
| Blue | 360 | 175 | 420 | 519 | 430 | 200 | 520 | 363 | 435 | |
| White | 338 | 157 | 384 | 497 | 408 | 177 | 498 | 329 | 410 | |
| Gold | 317 | 145 | 357 | 475 | 375 | 149 | 473 | 305 | 390 | |
| Red | 241 | 102 | 300 | 434 | 308 | 120 | 441 | 256 | 304 | |
| HNCP | 16 | 18 | 10 | 8 | 4 | 12 | 6 | 14 | 2 | |
| Par | 4 | 3 | 4 | 5 | 4 | 3 | 5 | 4 | 4 | |