Sandpiper Bay
800 Sandpiper Drive, Sunset Beach, North Carolina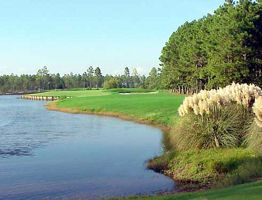 Sandpiper Bay Golf & Country Club, designed by Dan Maples, is a unique 27-hole course geared toward players of all skill levels. It is one of the most high-quality courses in the Myrtle Beach area and features several award winning challenges. Guests are treated to plenty of Southern hospitality so that they feel as though they are being welcomed home rather than just coming and going. A combination of the friendliest staff and best gameplay experience entices players to come back year after year.

The course makes use of MiniVerde Bermuda greens that were recently placed after the Club's major renovations. Impeccable standards are a high-priority but the top priority of Sandpiper Bay is the guests. Not more than a 20-minute drive from Myrtle Beach, this course rests in the heart of a lovely and relaxing community known as Sunset Beach. The course compliments the restful town with lovely natural surroundings, well-maintained greens and fairways, and plenty of gameplay fun and surprises.

Sandpiper Bay is carved into the awe-inspiring coastline of North Carolina, known to many as the Grand Strand. Natural pine forests helps set the path of the course in order to create subtle doglegs and elevated greens. There are elevated tees in order to present a challenge to avid players while beginners can take their place comfortably on regular tees. However, the regular tees provide a plentiful challenge to low handicappers as well. Despite the relaxing setting, this course will entice players to think about every shot before taking them.

This course is a favorite of Myrtle Beach Golf Authority's Golf Director.
Course Architect
- Dan Maples
Year Opened
- 1987
Course Slope
- 119
Holes
- 27
Sandpiper Bay Golf and Country Club Scorecard
| | | | | | | | | | | |
| --- | --- | --- | --- | --- | --- | --- | --- | --- | --- | --- |
| Sand Course | | | | | | | | | | |
| Hole # | 1 | 2 | 3 | 4 | 5 | 6 | 7 | 8 | 9 | |
| Black | 562 | 173 | 384 | 400 | 559 | 177 | 354 | 163 | 419 | |
| White | 536 | 165 | 354 | 393 | 549 | 172 | 342 | 153 | 412 | |
| Gold | 494 | 135 | 312 | 369 | 510 | 138 | 310 | 123 | 385 | |
| Red | 445 | 112 | 221 | 319 | 454 | 103 | 258 | 101 | 311 | |
| HNCP | 3 | 8 | 5 | 2 | 4 | 7 | 6 | 9 | 1 | |
| Par | 5 | 3 | 4 | 4 | 5 | 3 | 4 | 3 | 4 | |
| | | | | | | | | | | |
| | | | | | | | | | | |
| | | | | | | | | | | |
| Piper Course | | | | | | | | | | |
| Hole # | 1 | 2 | 3 | 4 | 5 | 6 | 7 | 8 | 9 | |
| Black | 379 | 571 | 193 | 504 | 402 | 185 | 567 | 194 | 404 | |
| White | 369 | 563 | 177 | 496 | 373 | 162 | 536 | 178 | 395 | |
| Gold | 337 | 523 | 134 | 468 | 341 | 123 | 494 | 159 | 367 | |
| Red | 300 | 470 | 108 | 406 | 245 | 89 | 424 | 110 | 300 | |
| HNCP | 4 | 3 | 6 | 9 | 7 | 8 | 2 | 5 | 1 | |
| Par | 4 | 5 | 3 | 5 | 4 | 3 | 5 | 3 | 4 | |
| | | | | | | | | | | |
| | | | | | | | | | | |
| | | | | | | | | | | |
| Bay Course | | | | | | | | | | |
| Hole # | 1 | 2 | 3 | 4 | 5 | 6 | 7 | 8 | 9 | |
| Black | 550 | 420 | 206 | 352 | 207 | 366 | 362 | 432 | 555 | |
| White | 524 | 377 | 193 | 319 | 190 | 328 | 330 | 397 | 518 | |
| Gold | 482 | 335 | 164 | 264 | 147 | 281 | 301 | 346 | 458 | |
| Red | 444 | 311 | 145 | 215 | 110 | 262 | 210 | 311 | 423 | |
| HNCP | 2 | 7 | 3 | 8 | 6 | 9 | 4 | 5 | 1 | |
| Par | 5 | 4 | 3 | 4 | 3 | 4 | 4 | 4 | 5 | |