Pearl Golf Links East
1300 Pearl Boulevard SW, Sunset Beach, North Carolina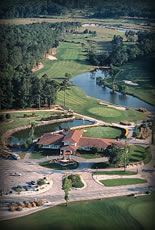 The Pearl Links East Course is a beautiful parkland layout and designed by famed architect Dan Maples. This course winds its way along the scenic Calabash River 20 miles from North Myrtle Beach golf courses. A golfer may face difficult challenges from hole to hole while soaking in the breathtaking views of the natural scenery. Golf Digest gave the East Course a 4-star rating as "Best Places to Play" in the area. The 17th-hole is one of the signature holes and boasts nearly 400 feet in length! Strategically placed salt marshes make the East Course just the right amount of challenge. The 17th-hole leads up to the ultimate setting- the final challenging hole. Easily the 18th-hole finishes with an apex!
Pearl Links East Course is a par-72 and has plenty of excitement around on the fairway around every turn. A spectacular view of rolling greens captures the essence of golfing. Soft spikes are required while golfing on MiniVerde Bermuda greens.
The Pearl Golf Links is one of the well sought out courses of all the golf courses along the Grand Strand. The course offers many discount golf packages for your next golf vacation. Hotels in Myrtle Beach are just a short drive. Book your Myrtle Beach golf trip with us and discover affordable golf vacation packages and door busting golf deals.
Course Architect
- Dan Maples
Year Opened
- 1986
Course Slope
- 135
Holes
- 18
Pearl Golf Links East Course Scorecard
| | | | | | | | | | | |
| --- | --- | --- | --- | --- | --- | --- | --- | --- | --- | --- |
| Front | | | | | | | | | | |
| Hole # | 1 | 2 | 3 | 4 | 5 | 6 | 7 | 8 | 9 | |
| Black | 541 | 202 | 349 | 416 | 215 | 404 | 412 | 353 | 510 | |
| Blue | 528 | 185 | 337 | 393 | 199 | 385 | 399 | 331 | 504 | |
| White | 498 | 171 | 317 | 364 | 185 | 347 | 376 | 305 | 477 | |
| Gold | 473 | 143 | 312 | 331 | 165 | 314 | 361 | 273 | 446 | |
| Red | 457 | 134 | 275 | 279 | 151 | 275 | 341 | 243 | 422 | |
| HNCP | 9 | 5 | 17 | 7 | 11 | 1 | 3 | 15 | 13 | |
| Par | 5 | 3 | 4 | 4 | 3 | 4 | 4 | 4 | 5 | |
| | | | | | | | | | | |
| | | | | | | | | | | |
| | | | | | | | | | | |
| Back | | | | | | | | | | |
| Hole # | 10 | 11 | 12 | 13 | 14 | 15 | 16 | 17 | 18 | |
| Black | 402 | 331 | 185 | 521 | 177 | 421 | 364 | 418 | 572 | |
| Blue | 382 | 322 | 176 | 510 | 167 | 388 | 336 | 387 | 560 | |
| White | 353 | 291 | 147 | 491 | 158 | 370 | 326 | 371 | 544 | |
| Gold | 321 | 267 | 121 | 439 | 146 | 337 | 312 | 369 | 527 | |
| Red | 292 | 216 | 94 | 433 | 129 | 293 | 265 | 335 | 436 | |
| HNCP | 12 | 14 | 16 | 8 | 18 | 6 | 10 | 4 | 2 | |
| Par | 4 | 4 | 3 | 5 | 3 | 4 | 4 | 4 | 5 | |