Indigo Creek Golf Club
9480 Indigo Club Drive, Murrells Inlet, South Carolina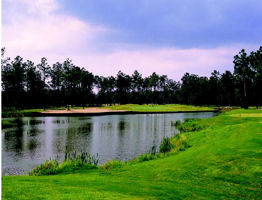 This Willard Byrd designed course is located and tucked away in Murrells Inlet, just south of central Myrtle Beach. Golfers must be focused and attentive for every shot on this uniquely designed course. Indigo Creek offers a breathtaking panoramic view of towering pines, century old oaks, and flowing creeks. Narrow fairways present the most challenge at this Myrtle Beach golf course. Hole number 9 is a par 4 and is featured as one of the "Myrtle Beach Dream 18 holes."
Indigo Creek Golf Club is an 18-hole golf course with many deceptive bunkers, water hazards, and marshlands. The golf course has a rating of 70.2 and a slope of 130, featuring Bermuda tees and Tiftdwarf Bermuda greens. This course appeals to and is rated among some of the best golf courses in Myrtle Beach. With several handicap options, Indigo Creek appeals to the experienced and beginner golfer; the course is also one of the most preferred among women golfers.
Indigo Creek Golf Club offers many discount golf deals throughout the year.

Course Architect
- Willard Byrd
Year Opened
- 1990
Course Slope
- 128
Holes
- 18
Indigo Creek Golf Club Scorecard
| | | | | | | | | | | |
| --- | --- | --- | --- | --- | --- | --- | --- | --- | --- | --- |
| Front | | | | | | | | | | |
| Hole # | 1 | 2 | 3 | 4 | 5 | 6 | 7 | 8 | 9 | |
| Blue | 390 | 375 | 190 | 520 | 420 | 200 | 390 | 365 | 535 | |
| White | 360 | 360 | 165 | 485 | 380 | 155 | 365 | 340 | 515 | |
| Gold | 330 | 320 | 152 | 450 | 340 | 135 | 325 | 325 | 480 | |
| Red | 305 | 290 | 120 | 395 | 300 | 115 | 295 | 265 | 425 | |
| HNCP | 9 | 17 | 5 | 11 | 1 | 13 | 3 | 15 | 7 | |
| Par | 4 | 4 | 3 | 5 | 4 | 3 | 4 | 4 | 5 | |
| | | | | | | | | | | |
| | | | | | | | | | | |
| | | | | | | | | | | |
| Back | | | | | | | | | | |
| Hole # | 10 | 11 | 12 | 13 | 14 | 15 | 16 | 17 | 18 | |
| Blue | 390 | 198 | 395 | 405 | 509 | 180 | 380 | 375 | 530 | |
| White | 355 | 152 | 355 | 375 | 475 | 145 | 355 | 325 | 505 | |
| Gold | 315 | 133 | 335 | 335 | 413 | 110 | 330 | 295 | 455 | |
| Red | 285 | 102 | 290 | 310 | 386 | 95 | 295 | 260 | 390 | |
| HNCP | 6 | 12 | 2 | 4 | 8 | 16 | 14 | 18 | 10 | |
| Par | 4 | 3 | 4 | 4 | 5 | 3 | 4 | 4 | 5 | |