Indian Wells Golf Club
100 Woodlake Drive, Murrells Inlet, South Carolina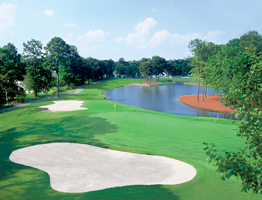 The Indian Wells Golf Course is a Gene Hamm created design. This popular 18-hole course resides just south of Myrtle Beach in Garden City. Golfers get a classic feel with this course reflecting a U.S Open style. This course offers a number of challenges and rewards for the most experienced and beginner golfers. Beginners are attracted to the wide-open course design while experienced golfers migrate to the challenging par 3s. Hole #9 a 410 yard par 4 is part of "Myrtle Beach Dream 18".
This 6,624-yard course is shorter than most courses and yet offers a variety of tricky and challenging shots. Aim your shot with a clear stroke on the par 5 holes since they are aligned with tall pine trees. Golfers are urged to use your best-shot approach for this course.
Indian Wells Clubhouse recommends to golfers to use their GPS golf carts to overcome the challenges of water hazards and blind tee box spots. This course offers discount golf throughout the year.

Course Architect
- Gene Hamm
Year Opened
- 1985
Course Slope
- 125
Holes
- 18
Indian Wells Golf Club Scorecard
| | | | | | | | | | | |
| --- | --- | --- | --- | --- | --- | --- | --- | --- | --- | --- |
| Front | | | | | | | | | | |
| Hole # | 1 | 2 | 3 | 4 | 5 | 6 | 7 | 8 | 9 | |
| Blue | 491 | 388 | 355 | 430 | 526 | 167 | 375 | 193 | 420 | |
| White | 471 | 371 | 323 | 401 | 504 | 154 | 355 | 181 | 397 | |
| Gold | 447 | 342 | 297 | 366 | 494 | 134 | 338 | 164 | 374 | |
| Red | 371 | 312 | 231 | 298 | 353 | 118 | 282 | 155 | 320 | |
| HNCP | 8 | 10 | 14 | 2 | 4 | 18 | 16 | 12 | 6 | |
| Par | 5 | 4 | 4 | 4 | 5 | 3 | 4 | 3 | 4 | |
| | | | | | | | | | | |
| | | | | | | | | | | |
| | | | | | | | | | | |
| Back | | | | | | | | | | |
| Hole # | 10 | 11 | 12 | 13 | 14 | 15 | 16 | 17 | 18 | |
| Blue | 348 | 401 | 382 | 481 | 167 | 484 | 396 | 210 | 410 | |
| White | 333 | 383 | 337 | 465 | 154 | 458 | 369 | 186 | 383 | |
| Gold | 315 | 363 | 302 | 445 | 127 | 433 | 350 | 158 | 362 | |
| Red | 293 | 289 | 255 | 390 | 119 | 356 | 316 | 110 | 304 | |
| HNCP | 17 | 7 | 15 | 5 | 13 | 3 | 11 | 9 | 1 | |
| Par | 4 | 4 | 4 | 5 | 3 | 5 | 4 | 3 | 4 | |