Heather Glen
4650 Heather Glen Way, Little River, South Carolina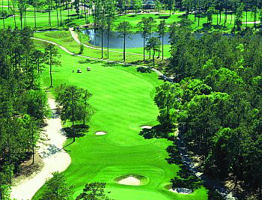 The Heather Glen golf course is the design concept of Scottish designer Willard Byrd and Clyde Johnston. Together they developed one of the most captivating and enticing golf courses in the Myrtle Beach area. This tranquil and striking course is nestled in Little River, South Carolina just a short drive from Myrtle Beach.
Heather Glen Golf Course is a 27-hole course encompassing 400 acres of stunning greens. The fairways have a variety of vegetation and natural beauty that captures the golfer's eye on each distinctive hole. The deep sand bunkers and water hazards surrounded by tall pines only enhance this challenging course. Heather Glen is a masterpiece for all golfers to experience.
The British inspired clubhouse adds to the feel of this Scottish traditional course. Heather Glen offers many golf packages to suit any golf vacation needs.
Course Architect
- Willard Byrd and Clyde Johnston
Year Opened
- 1987
Course Slope
- 130
Holes
- 27
Heather Glen Golf Course Scorecard
| | | | | | | | | | | |
| --- | --- | --- | --- | --- | --- | --- | --- | --- | --- | --- |
| First Red Nine | | | | | | | | | | |
| Hole # | 1 | 2 | 3 | 4 | 5 | 6 | 7 | 8 | 9 | |
| Blue | 363 | 366 | 506 | 180 | 415 | 484 | 381 | 224 | 447 | |
| White | 345 | 346 | 482 | 152 | 383 | 461 | 364 | 191 | 403 | |
| Gold | 312 | 320 | 454 | 142 | 356 | 433 | 331 | 142 | 369 | |
| Red | 241 | 294 | 16 | 127 | 310 | 413 | 316 | 110 | 309 | |
| HNCP | 15 | 17 | 5 | 13 | 1 | 9 | 11 | 7 | 3 | |
| Par | 4 | 4 | 5 | 3 | 4 | 5 | 4 | 3 | 4 | |
| | | | | | | | | | | |
| | | | | | | | | | | |
| | | | | | | | | | | |
| Second White Nine | | | | | | | | | | |
| Hole # | 1 | 2 | 3 | 4 | 5 | 6 | 7 | 8 | 9 | |
| Blue | 430 | 153 | 380 | 165 | 391 | 527 | 375 | 409 | 587 | |
| White | 388 | 133 | 351 | 155 | 356 | 509 | 351 | 387 | 558 | |
| Gold | 375 | 121 | 330 | 142 | 348 | 480 | 324 | 320 | 514 | |
| Red | 335 | 105 | 272 | 115 | 317 | 402 | 282 | 275 | 462 | |
| HNCP | 2 | 18 | 10 | 16 | 14 | 4 | 12 | 8 | 6 | |
| Par | 4 | 3 | 4 | 3 | 4 | 5 | 4 | 4 | 5 | |
| | | | | | | | | | | |
| | | | | | | | | | | |
| | | | | | | | | | | |
| Third Blue Nine | | | | | | | | | | |
| Hole # | 1 | 2 | 3 | 4 | 5 | 6 | 7 | 8 | 9 | |
| Blue | 393 | 171 | 510 | 404 | 182 | 400 | 410 | 525 | 410 | |
| White | 374 | 160 | 485 | 371 | 168 | 375 | 385 | 490 | 375 | |
| Gold | 315 | 126 | 435 | 350 | 142 | 360 | 335 | 458 | 325 | |
| Red | 255 | 120 | 424 | 276 | 132 | 296 | 299 | 420 | 295 | |
| HNCP | 5 | 13 | 15 | 11 | 17 | 9 | 1 | 7 | 3 | |
| Par | 4 | 3 | 5 | 4 | 3 | 4 | 4 | 5 | 4 | |