Glen Dornoch
4840 Glen Dornoch Way, Little River, South Carolina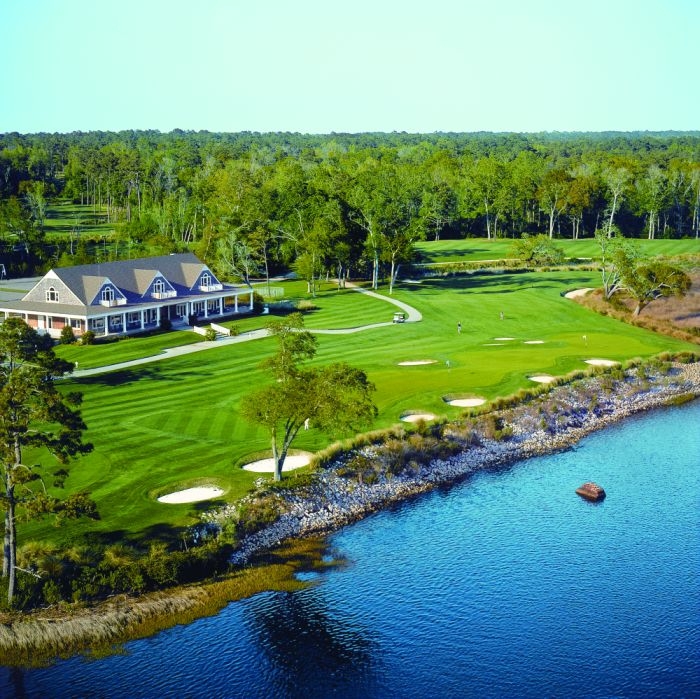 The Glen Dornoch Golf Course is located in Little River, South Carolina and a convenient drive from Myrtle Beach. This is a creative golf course design by Donald James Ross from Dornoch, Scotland. Golf in Myrtle Beach and wear your Scottish kilt. Leaving all the natural beauty aside, this is one of the finest golf courses on the Grand Stand to play. Play beside centuries-old oak trees, magnolias, and tall pines. Glide your shots beside the natural elevated slops and contrasting contours of the Intracoastal Waterway.
This course is designed for skilled and beginner golfers, considering the first 3 holes are easiest, and the last 3 are the most challenging. Looking to improve your Glen Dornoch's scorecard? Here's a tip…Shoot for accuracy not distance.
The Glen Dornoch Waterway Golf Links Clubhouse has many amenities for golfers. This is a prime golf resort on the Grand Strand, offering a variety of packages for your next golf vacation.
Course Architect
- Clyde Johnston
Year Opened
-
Course Slope
- 145
Holes
- 18
Glen Dornoch Scorecard
| | | | | | | | | | | |
| --- | --- | --- | --- | --- | --- | --- | --- | --- | --- | --- |
| Front | | | | | | | | | | |
| Hole # | 1 | 2 | 3 | 4 | 5 | 6 | 7 | 8 | 9 | |
| Black | 333 | 410 | 300 | 168 | 590 | 410 | 192 | 570 | 460 | |
| Blue | 308 | 342 | 285 | 155 | 560 | 394 | 176 | 540 | 420 | |
| White | 292 | 335 | 272 | 137 | 532 | 352 | 166 | 512 | 406 | |
| Gold | 263 | 305 | 255 | 127 | 515 | 333 | 150 | 495 | 387 | |
| Red | 246 | 270 | 225 | 117 | 497 | 300 | 130 | 415 | 314 | |
| HNCP | 11 | 9 | 13 | 17 | 3 | 7 | 15 | 5 | 1 | |
| Par | 4 | 4 | 4 | 3 | 5 | 4 | 3 | 5 | 4 | |
| | | | | | | | | | | |
| | | | | | | | | | | |
| | | | | | | | | | | |
| Back | | | | | | | | | | |
| Hole # | 10 | 11 | 12 | 13 | 14 | 15 | 16 | 17 | 18 | |
| Black | 535 | 386 | 350 | 525 | 183 | 380 | 431 | 212 | 455 | |
| Blue | 508 | 365 | 335 | 505 | 161 | 360 | 413 | 182 | 427 | |
| White | 472 | 351 | 330 | 487 | 147 | 342 | 371 | 164 | 367 | |
| Gold | 436 | 329 | 318 | 465 | 131 | 295 | 348 | 115 | 350 | |
| Red | 410 | 306 | 260 | 415 | 77 | 285 | 330 | 105 | 300 | |
| HNCP | 4 | 10 | 14 | 8 | 18 | 12 | 2 | 16 | 6 | |
| Par | 5 | 4 | 4 | 5 | 3 | 4 | 4 | 3 | 4 | |