Azalea Sands
2100 Highway 17 South, North Myrtle Beach, South Carolina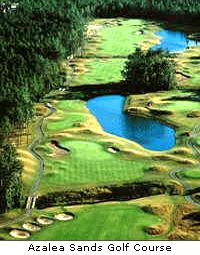 Azalea Sands Beach Golf Course designed by Gene Hamm is an 18-hole favorite golf course in north Myrtle Beach. Vacationers and locals enjoy this quick and easy course opened since 1972.
Azalea Sands is one of the most exceptional scenic courses to golf in Myrtle Beach. Secluded away among the beautiful Bermuda green, tall pines and strips of waterway, this course has become the most favorite & visited course among players of all skill levels. Fairways and side bunkers designed for lots of family fun golfing entertainment. Golf in Myrtle Beach at this exceptional modern yet traditional designed course for some of the best golf in Myrtle Beach.
For more gameplay and close to other golf courses in Myrtle Beach, book at Golf Special package with nearby courses.
Course Architect
- Gene Hamm
Year Opened
- 1972
Course Slope
- 123
Holes
- 18
Azalea Sands Golf Club Scorecard
| | | | | | | | | | | |
| --- | --- | --- | --- | --- | --- | --- | --- | --- | --- | --- |
| Front | | | | | | | | | | |
| Hole # | 1 | 2 | 3 | 4 | 5 | 6 | 7 | 8 | 9 | |
| Blue | 515 | 372 | 435 | 385 | 195 | 535 | 410 | 182 | 420 | |
| White | 480 | 337 | 390 | 350 | 168 | 501 | 375 | 155 | 385 | |
| Gold | 470 | 321 | 368 | 325 | 155 | 489 | 363 | 139 | 365 | |
| Red | 412 | 277 | 320 | 259 | 131 | 421 | 299 | 119 | 301 | |
| HNCP | 7 | 17 | 1 | 13 | 11 | 9 | 5 | 15 | 3 | |
| Par | 5 | 4 | 4 | 4 | 3 | 5 | 4 | 3 | 4 | |
| | | | | | | | | | | |
| | | | | | | | | | | |
| | | | | | | | | | | |
| Back | | | | | | | | | | |
| Hole # | 10 | 11 | 12 | 13 | 14 | 15 | 16 | 17 | 18 | |
| Blue | 385 | 515 | 207 | 410 | 430 | 221 | 385 | 360 | 540 | |
| White | 350 | 460 | 190 | 380 | 385 | 190 | 350 | 330 | 502 | |
| Gold | 330 | 429 | 166 | 368 | 367 | 175 | 330 | 312 | 486 | |
| Red | 295 | 355 | 133 | 351 | 327 | 128 | 308 | 283 | 429 | |
| HNCP | 16 | 12 | 8 | 10 | 2 | 6 | 14 | 18 | 4 | |
| Par | 4 | 5 | 3 | 4 | 4 | 3 | 4 | 4 | 5 | |