Myrtle Beach Golf at Thanksgiving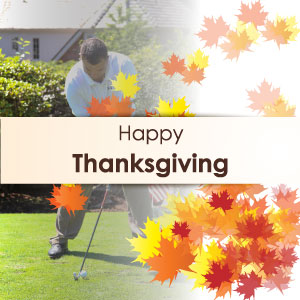 With the Thanksgiving right around the corner, we thought that we would let you know about the great Myrtle Beach golf that is available to you. Most people don't think about playing golf on Thanksgiving, but the truth is, it's a perfect time to hit the course. Think about it: You've got "visitors" (family) in town. Your home is full of people all in each others way making the Thanksgiving feast and getting on each others nerves. What could possibly be better than getting out of the house to play a leisurely 18? Enjoy the outdoors, play your favorite sport and when you get done, you come back home – enjoy the Thanksgiving fixings and perhaps watch some football. Sounds like the perfect mix to us! Myrtle Beach golf and Thanksgiving –what a smashing idea.
Another option is to hit one of the Myrtle Beach golf courses while all the kin is out shopping on Black Friday. Thanksgiving means the beginning of the Christmas shopping season – let the others brave the crazy shopping madness at the outlet centers and malls – you can leave all the stress and crowds behind and enjoy some quality relaxation and fun playing some Myrtle Beach golf! Many of the local Myrtle Beach golf courses will have specials running during Thanksgiving week, so ask us how you can get a fabulous deal. They also have specials for juniors as they want you to enjoy the holiday with family too. Book your tee times right here for great 48 hour rates during any time of the year, especially the holidays!
Comments